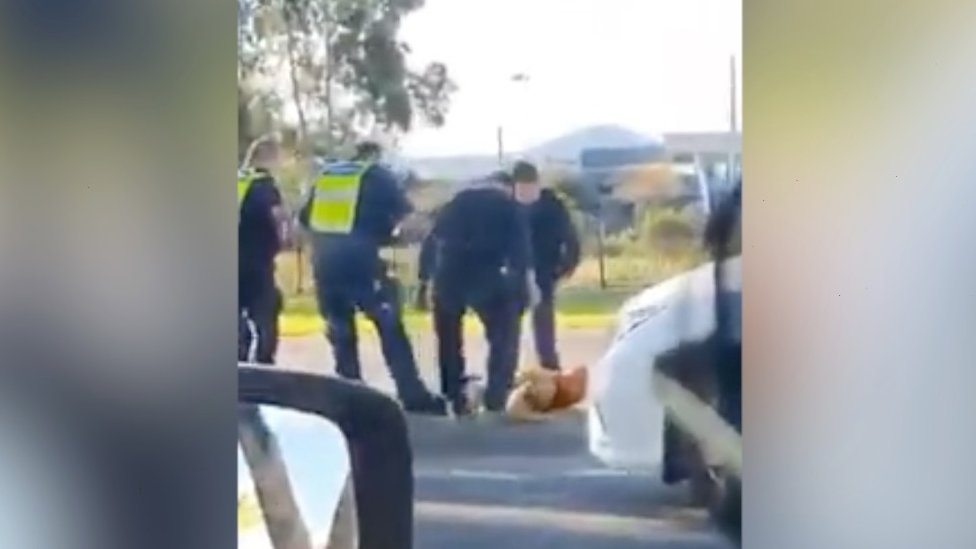 An Australian policeman has been suspended over the arrest of a man who was allegedly hit by a police car and then kicked in the head by an officer. The man, 32, was put in an induced coma and admitted to intensive care after the arrest in Melbourne on Sunday. His family has called for an independent investigation, after footage of the incident went viral. Victoria Police said an internal unit was investigating. Melbourne has been under a strict coronavirus lockdown for the past two months.
Police have been given unprecedented powers, under public health orders, to fine and detain people, but it does not appear that Sunday's arrest was related to a lockdown breach. The man had been at a hospital seeking treatment for mental health issues when he left, prompting staff to call the police. A video of the arrest taken by a bystander shows a policeman appearing to stomp on the man's head before officers pin him to the ground. Victoria Police said the man had been behaving erratically and assaulted an officer.
Footage broadcast by the Seven News TV channel shows the man walking in the middle of the road, waving his arms in front of a police car. The man turns his back and walks away slowly, before being hit by the police car from behind. In another video, taken several minutes later, an officer stands over the man and appears to kick down on his head to prevent him from getting up. He and five other officers then pin him down.
His father has accused the officers of using excessive force. It is like watching a video from America or Beirut, he said. Police are not above the law they should be held accountable. They were kicking him and he wasn't even fighting back. It was extremely excessive."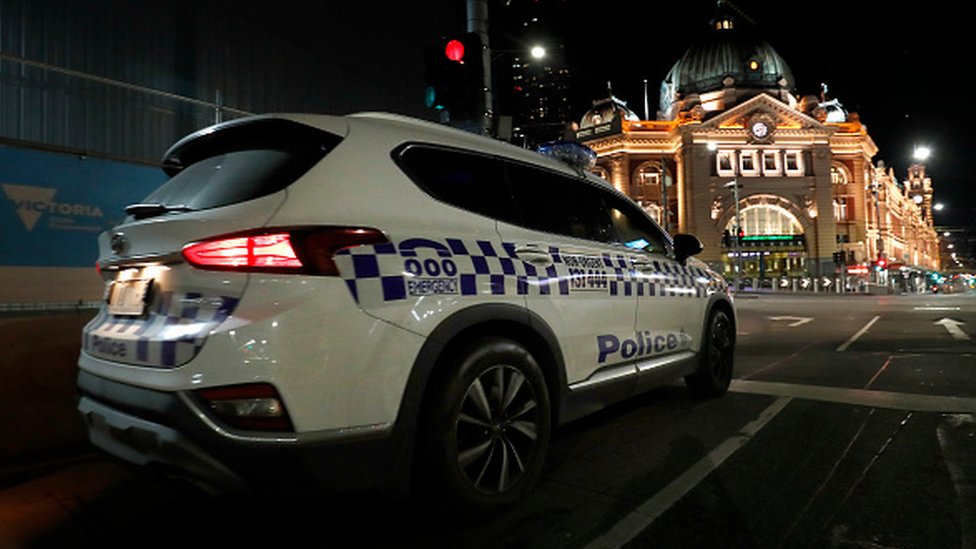 The man's lawyer, said that his client had not committed a crime and was in a "vulnerable" state at the time of his arrest. Really he's a person that the police should be dealing with in a very unique way," Mr King said.
Victoria Police said its officers were called to reports of a man behaving erratically in the suburb of Epping at about 16:10 (06:10 GMT) on Sunday. During the highly dynamic incident a police officer was assaulted and pepper spray was deployed before the man was arrested and subsequently taken to hospital for assessment," a police spokesperson said on Monday. Upon arrival the male allegedly became aggressive and damaged a police vehicle while attempting to avoid arrest."