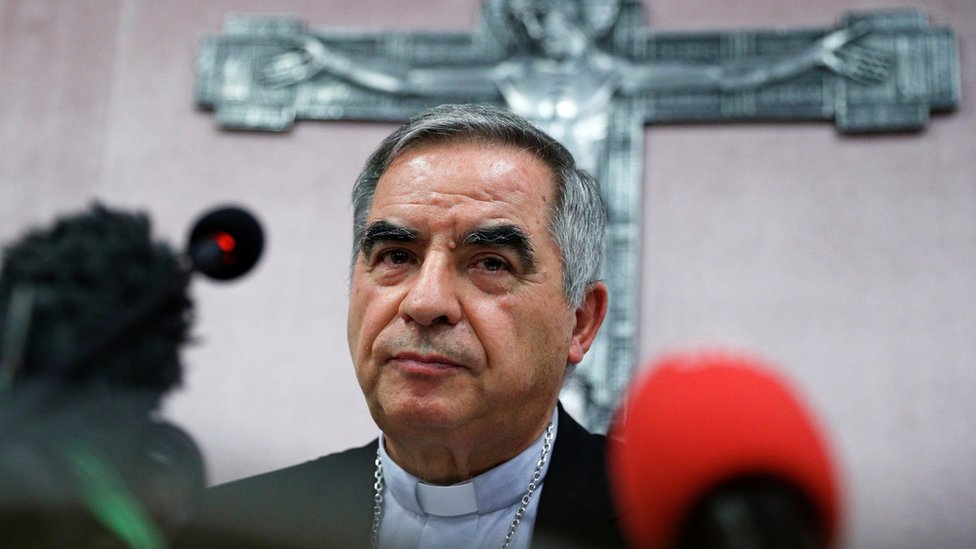 Police in Milan say they have arrested a 39-year-old Italian woman, who has worked for Cardinal Angelo Becciu, a senior Vatican official who was demoted last month over embezzlement claims. Cecilia Marogna says she was paid €500,000 ($587,000; £454,000) by Cardinal Becciu, Ms Marogna was arrested after an Interpol warrant was issued at the Holy See's request, according to reports. Both Ms Marogna and Cardinal Becciu have denied any wrongdoing, in interviews with Italian media in recent days, Ms Marogna confirmed that she had been paid €500,000 by Cardinal Becciu through a company she operated in Slovenia, she said she received the money to provide "parallel diplomacy" to help missionaries in conflict areas.
A senior Vatican source told Reuters news agency that Ms Marogna was suspected of "embezzlement and aggravated misappropriation in complicity with others". The cardinal allegedly authorized the payments to Ms Marogna while serving as number two in the Vatican's Secretariat of State, which manages the Church's donations. "I didn't steal a single euro," Ms Marogna told newspaper Domani.
She has also denied allegations that she is the cardinal's mistress, telling the newspaper Corriere della Sera that she is a "political analyst and intelligence expert" with "a network of relationships in Africa and the Middle East" to protect the Vatican's representatives abroad. Cardinal Becciu, 72, unexpectedly resigned last month, revealing he was told to do so by Pope Francis, he said he was suspected of giving Church money to his brothers. The cardinal was involved in a controversial deal to invest in a luxury London building with Church funds, which has since been the subject of a financial investigation. The cardinal has denied any wrongdoing and has defended the London property deal, resignations at this level of the Vatican are extremely rare.