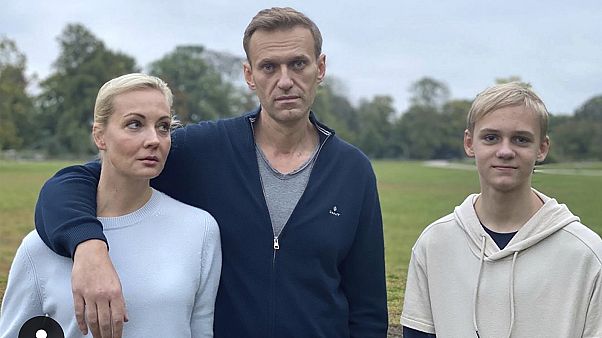 Navalny, centre, poses for a photo with his wife Yulia and their son Zahar in an unknown location in Germany.   
The EU imposed sanctions on Thursday on six individuals and one entity it believes was involved in the poisoning of Russian opposition figure Alexei Navalny.
The individuals are some of the highest ranking officials in Russia, including a deputy government minister and deputy chief of staff in President Vladimir Putin's office.
The State Scientific Research Institute for Organic Chemistry and Technology, the Russian body responsible for the destruction of Soviet-era chemical weapons stockpiles, has also been sanctioned.
The EU said that the use of Novichok in an attack against Navalny would only have been possible because of the failings of the Institute to destroy the remaining stockpiles.
Navalny became seriously ill on a domestic flight from Siberia to Moscow on August 20, eventually falling into a coma at a hospital in Omsk.