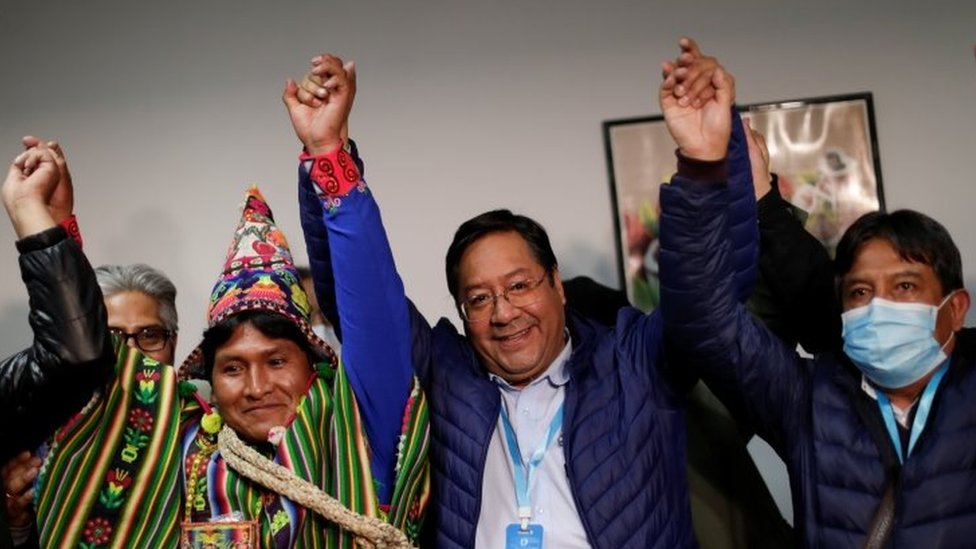 The polls indicate that Mr Arce, who is an ally of exiled former President Evo Morales, has won enough votes to stave off a second round, Mr Arce has said he will form a "government of national unity". There are deep divisions in Bolivia after last year's controversial election which ended in allegations of fraud and the exile of Mr Morales, in order to win outright in the first round, a candidate needs to obtain 40% of the vote and have a 10-percentage-point lead over his nearest rival, exit polls carried out by the Jubileo research institution gave Luis Arce of the Mas party 53% of the votes, followed by centrist candidate Carlos Mesa of the Citizens' Community alliance with 30.8%.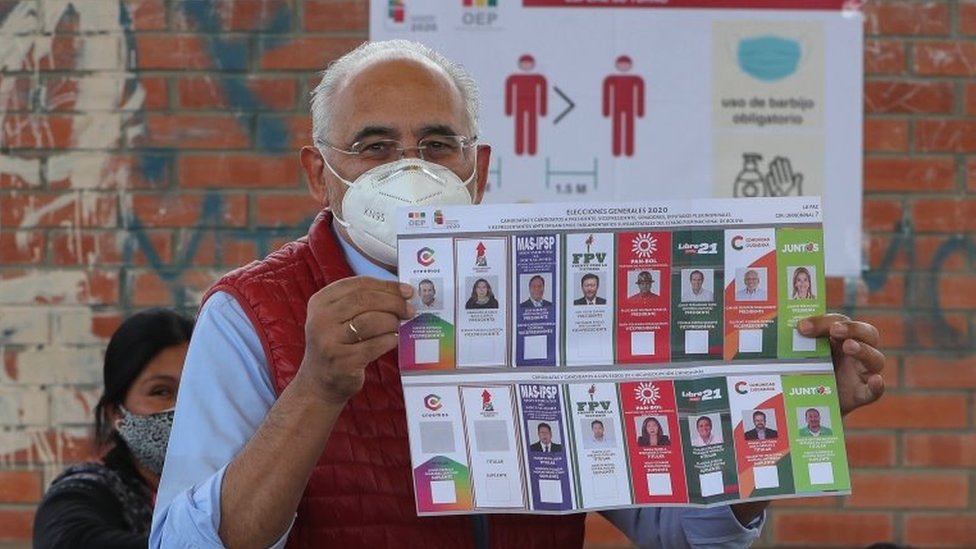 A quick-count by pollsters Ciesmori suggested Mr Arce had won with 52.4%, trailed by Mr Mesa with 31.5%, if the polls are confirmed, Mr Arce will be the next president of Bolivia without the need for a second round of voting in November. Mr Arce, who has already claimed victory, said Bolivia had "recovered democracy", in a reference to last year's controversial election which was annulled after allegations of fraud. Jeanine Áñez, who became interim president after the annulment, has congratulated Mr Arce and his running mate, David Choquehuanca.
Mr Áñez, who bowed out of the presidential race last month, wrote on Twitter: "We still do not have an official count, but from the data we have, Mr Arce and Mr Choquehuanca have won the election." She added, I congratulate the winners and ask them to govern with Bolivia and democracy in mind. The divisions date back to 2016 when then-President Evo Morales held a referendum asking Bolivians whether the presidents should continue to be limited in the number of times they can run for office. The result was a "no" to abolishing term limits, but Mr Morales's party took the issue to the constitutional court, which annulled the result of the referendum and scrapped the term limits, thereby allowing him to run for president in last year's election.
He was officially declared the winner, but protests erupted when the vote count was halted for 24 hours, prompting allegations of vote-rigging, the protests continued for weeks and both the head of the army and of the police joined calls for Mr Morales to step down. He resigned on 10 November and shortly afterwards left for Mexico, from where he later moved to Argentina. Ms Áñez, a right-wing senator, stepped in as interim leader but many supporters of Mr Morales accused her of seizing power illegally and have described the aftermath of the election as a right-wing coup. The fact that the re-run of the 2019 election was postponed twice due to the coronavirus pandemic further fuelled suspicions among supporters of Mr Morales that Ms Áñez was trying to cling on to power, but in September, Ms Áñez announced that she was bowing out of the presidential election, saying she did not want to split the vote and see Mr Morales and Mr Arce's Mas party return to power.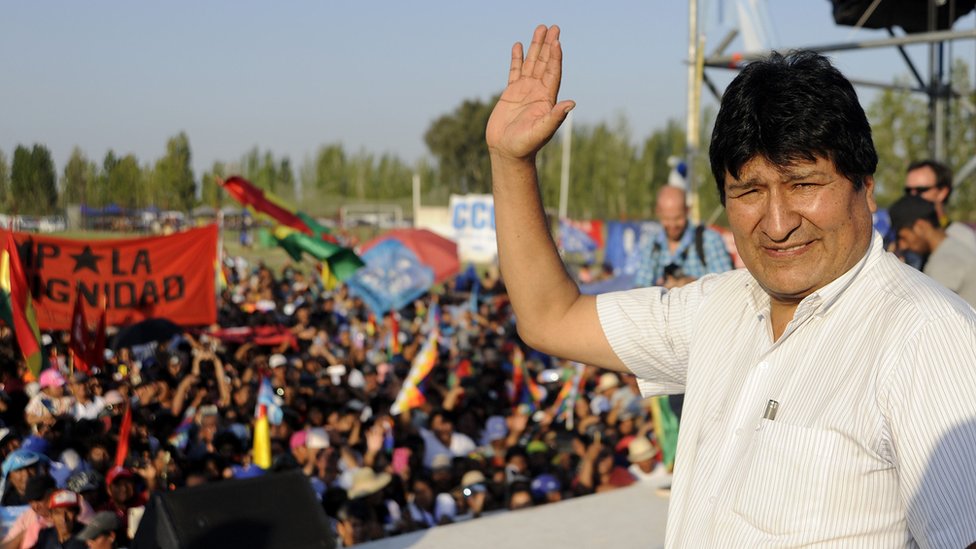 While Luis Arce had been the favourite to win in the first round it was not clear if he would win enough votes to avoid a run-off. Before running for president, Mr Arce served as economy minister under then-President Morales, his main challenger has been former President Carlos Mesa, who governed Bolivia between 2003 and 2009, his rule was marred by internal tensions about ownership of the country's vast gas resources, before his career in politics, Mr Mesa worked as a journalist and set up a television news production company, PAT, which he transformed into a national network. This is the first presidential election since 2002 in which Mr Morales has not been on the ballot.
The 60-year-old former leader of the coca growers' union still commands considerable support in Bolivia among its indigenous population and unions, he has been supporting Mr Arce from exile in Argentina. In late September Mr Morales said that, if Mr Arce won, he would return to the country "the next day". Speaking on Sunday as exit polls indicated a win for his protegee, Mr Morales said that Mr Arce would "return our country to the path of economic growth."