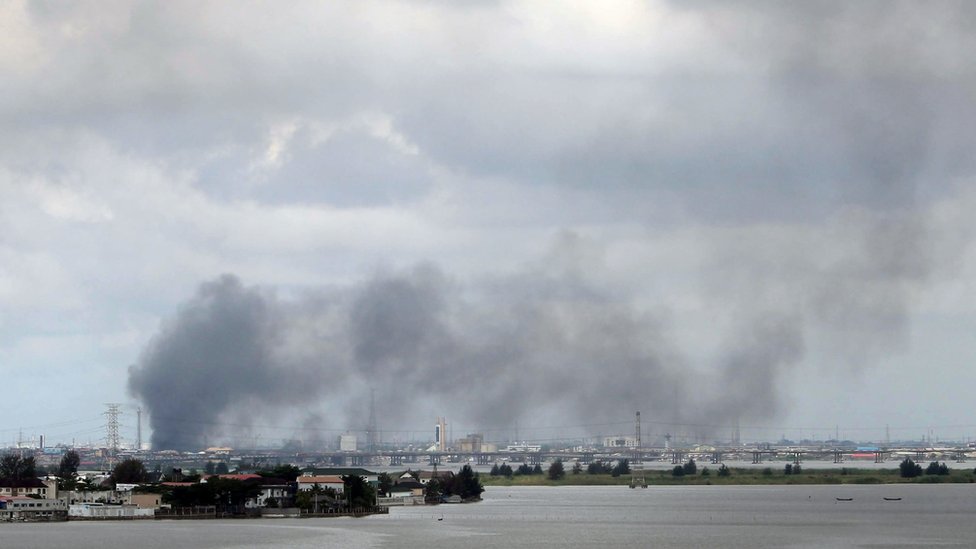 Buildings have been set aflame and there are reports of gunfire in Nigeria's biggest city after demonstrators were shot at a protest, rights group Amnesty International said at least 12 people were killed by soldiers and police in Lagos on Tuesday. Nigeria's army dismissed the reports as "fake news" in a post on Twitter, authorities have imposed an indefinite round-the-clock curfew on the city and elsewhere, but some defied the order.
Protests against a police unit have been taking place for two weeks. Demonstrators have been using the social media hashtag #EndSars to rally crowds against the Special Anti-Robbery Squad (Sars). President Muhammadu Buhari disbanded Sars on 11 October, but protests have continued, with demands for more changes in the security forces, as well as reforms to the way the country is run, witnesses have told reporters what they saw when men in military camouflage opened fire on Tuesday evening. On Wednesday, buildings were set alight across Lagos and police put up roadblocks. A major Nigerian TV station with links to a ruling party politician was on fire after people attacked it with petrol bombs, police in different districts of the city fired shots in the air to disperse protesters defying the curfew, he also reports that the palace of the most senior traditional leader in the city was looted, though the leader had been evacuated beforehand.
Witnesses said uniformed men opened fire on a crowd of around 1,000 demonstrators in the wealthy Lekki suburb on Tuesday, soldiers were seen barricading the protest site moments before the shooting, social media footage streamed live from the scene shows protesters tending to the wounded. A witness who did not want to be named said that shortly before 19:00 local time (18:00 GMT) soldiers "pulled up and they started firing directly" at peaceful protesters, they were firing and they were advancing straight at us. It was chaos. Somebody got hit straight beside me and he died on the spot, he said. The protesters had gathered at the Lekki toll gate for the last two weeks to block cars from using the road, shortly before a curfew was due to start, officers turned up and began to kettle in the demonstrators. The street lights were then shut off before the shooting began. In a statement, Amnesty International Nigeria said at least 12 protesters were killed in Lagos on Tuesday.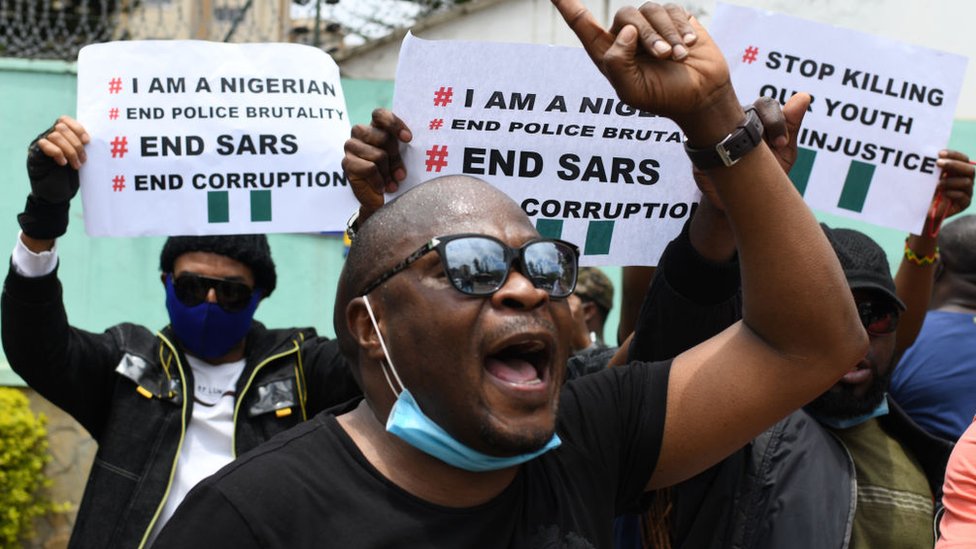 Evidence from hospital records and witnesses showed the Nigerian military opened fire on thousands of people who were peacefully calling for good governance and an end to police brutality at Lekki toll gate, the organisation said. Apart from the shooting in Lekki, at least two people were killed and one "critically injured" in the Alausa district by "a team of soldiers and policemen" at about 20:00, the group added. Soldiers clearly had one intention – to kill without consequences, said Osai Ojigho, Amnesty International Nigeria country director. Protesters were waving flags that looked covered in blood, they told me that the Nigerian flag, usually green-white-green, turned green-red-green yesterday from all the killing. Many of them had been at the site of the shooting the night before and recounted horrifying stories of seeing other protesters shot before their eyes. The calls for police reform have morphed into chants that President Buhari must go, demonstrators say they are sick and tired of the status quo.
President Buhari did not directly refer to the shootings in a statement on Wednesday, but called on people to have patience as police reforms "gather pace", and appealed for "understanding and calm. Protests have taken place in the UK, South Africa and Kenya against police brutality in Nigeria, while officials around the world condemned Tuesday's events. EU foreign policy chief Josep Borrell said it was "alarming to learn that several people have been killed and injured during the ongoing protests", adding it is "crucial" to bring those responsible to justice.
UN Secretary General Antonio Guterres called on police "to act at all times with maximum restraint while calling on protestors to demonstrate peacefully and to refrain from violence", his spokesman said on Wednesday, former US Secretary of State Hillary Clinton called on President Buhari and the army "to stop killing young #EndSARS protesters" in a tweet, and US Democratic presidential candidate Joe Biden also urged authorities to end the "violent crackdown on protesters".