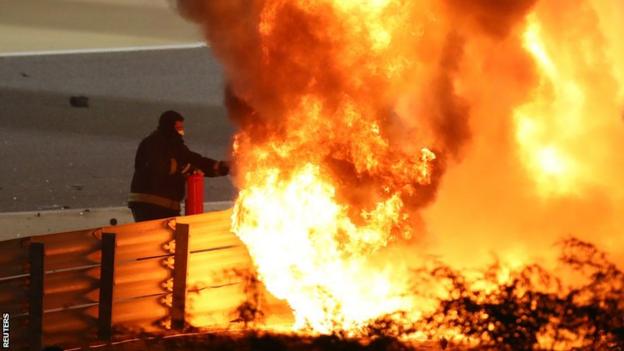 Romain Grosjean is being treated in hospital for burns after a terrifying, fiery accident at the Bahrain Grand Prix, the Frenchman's Haas pierced the barrier, split in two and burst into flames on the first lap of the race, which was stopped.
Grosjean's car was embedded in the barrier on its side and the driver appears to have been saved by the halo head-protection device. "Romain Grosjean will remain in hospital overnight to be treated for burns sustained on the back of both hands," a Haas statement said. "It's a miracle that he's alive," said 1996 world champion Briton Damon Hill, who was Ayrton Senna's team-mate at the 1994 San Marino Grand Prix when the Brazilian three-time champion was killed. Medical car driver Alan van der Merwe said: "It was a big surprise for us as well, we've never seen that much fire in 12 years. "Romain started to get out of the car himself which was pretty amazing after an accident like that. It was a relief to see he was OK." Ross Brawn, Formula 1's managing director for motorsport, said the halo, a three-point titanium structure introduced in 2018, had probably saved the Frenchman's life.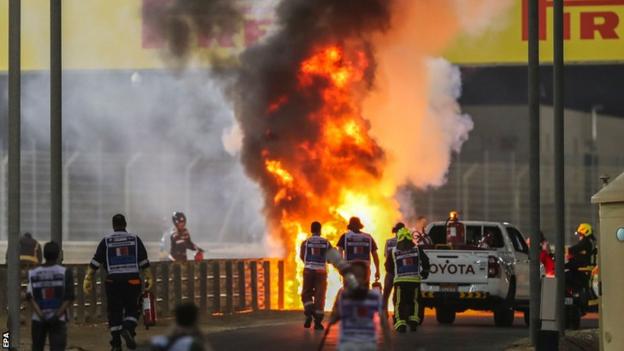 "Undoubtedly we've got to do a very deep analysis of all the events that occurred because there were a number of things that shouldn't have happened," Brawn told Sky Sports. "The fire was worrying, the split of the barrier was worrying. I think the positives are the safety of the car and that's what got us through today." "There's absolutely no doubt the halo was the factor that saved the day and saved Romain." Grosjean lost control of his Haas car after clipping the front left wheel of Daniil Kvyat's Alpha Tauri at Turn Three on the opening lap, his Haas team boss Guenther Steiner will speak with Grosjean on Monday to discuss his possible return and says no decision has been made about who will drive at the Sakhir Grand Prix in Bahrain next weekend.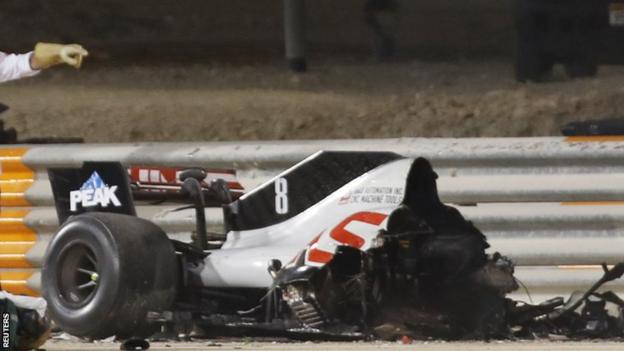 Steiner added: "When you see something like this the only thing you think is 'I hope we get lucky' – you don't think how it happened or whatever. "I would like to thank all the marshals. They did a fantastic job to get him away as quick as possible from the fire, it was amazing what they did." It was horrible, when I saw the images I was shocked," said fellow French driver Pierre Gasly. "It was really scary but I had no idea a Formula 1 car could break that way. The halo really proved to be working. I have text him to wish him a good recovery. I think he is fine but a really scary thing."