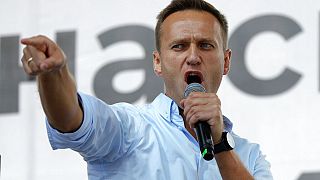 Kremlin critic Alexei Navalny has said that he will return to Russia on January 17. He will make his return from Germany, where he has been undergoing treatment after being poisoned with a nerve agent in an attack that he has blamed on Moscow and President Vladimir Putin.
On Twitter, Navalny said that remaining in Germany was never an option for him and that he would "return home on a victory flight."
Navalny fell into a coma while aboard a domestic flight from Siberia to Moscow on August 20. He was transferred from a hospital in Siberia to a Berlin hospital two days later.
Labs in Germany, France, and Sweden, and tests by the Organisation for the Prohibition of Chemical Weapons, established that he was exposed to a Soviet-era Novichok nerve agent.
The Kremlin has denied any involvement in the attack.