Comedian Nigel Ng has deleted a video and apologised to his fans after featuring a YouTuber who has criticised the Chinese government.
Nigel Ng has three million subscribers on YouTube where he plays the character Uncle Roger and gives a running commentary on Asian recipe videos. On Tuesday, Mr Ng apologised on Chinese social media for including Mike Chen, a popular YouTuber, in one of his videos, Mr Chen has previously spoken out about the treatment of Uighurs in Xinjiang. Mr Ng's decision has led some to accuse him of pandering to China – while also leaving his fans on Chinese social media confused. Mr Ng's video, titled "Uncle Roger reviews ugliest dumpling ever", was uploaded to YouTube on Monday. However, it was removed just a day later.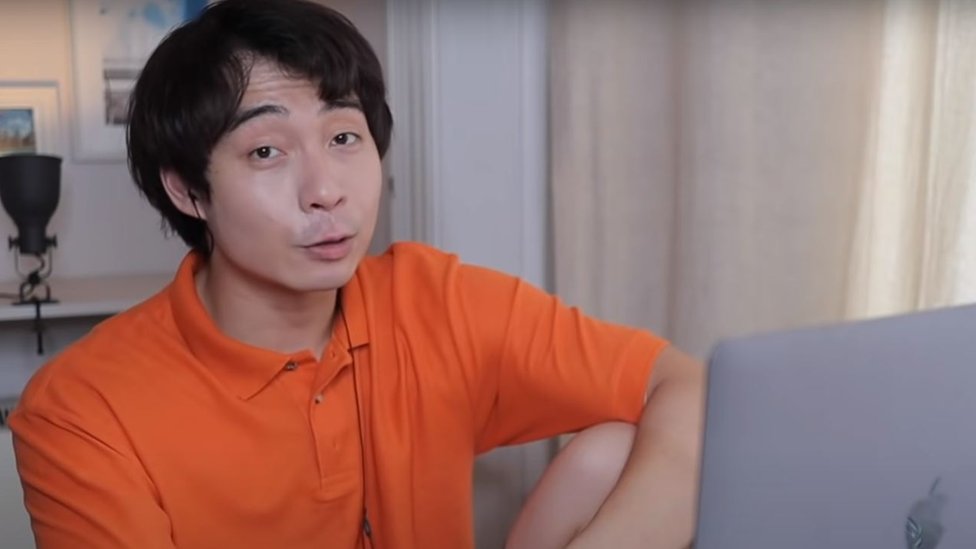 Mr Ng, a UK-based Malaysian, then apologised on Chinese social media site Weibo for causing a bad "social impression" with the video. "Taking into account the seriousness of the situation and the possible negative effects of the video itself, after discussion, we decided to delete it," he wrote. He added that he had not been aware of Mr Chen's "political thoughts and incorrect comments about China in the past". Mr Chen, who is based in the US and posts about food on his YouTube channel Strictly Dumpling, has previously criticised the Chinese government's policies and human rights record. In 2019, he criticised Beijing on Twitter, mentioning the treatment of Uighurs in Xinjiang and the 1989 Tiananmen Square massacre, he has also been associated with Falun Gong, a spiritual movement banned by the Chinese government. Falun Gong followers say they are a peaceful law-abiding group, following a philosophy and regime of exercises which lead to spiritual enlightenment and improved health.
The Chinese government, meanwhile, accuses Falun Gong of being an "evil cult". On Tuesday, Mr Chen told the South China Morning post: "I hold no animosity towards Nigel for what he did, because it's hard to stand up to the [Chinese Communist Party]'s tactics. I do hope that he learns more about the human rights abuses that the CCP has committed because he lives in a free country where he can do that." "I have always said that I love China, and I love the kind-hearted Chinese people. They are my people. The CCP, however, is not China and certainly should not be equated to the Chinese people," he added. The apology and deletion of the video has caused some people to accuse Mr Ng of self-censoring for the sake of Chinese fans, one person on Twitter wrote: "Taste of RMB is much better than MSG. Isn't that right Uncle Roger", referring to the Chinese currency and a flavour enhancer commonly added to some Asian foods.
Meanwhile, on Weibo, many people appeared unclear as to what exactly had happened, one user commented: "Uncle Roger's political sensitivity is so high, we still don't know what happened." Many Western companies have backtracked and issued apologies in the past, after their products or campaigns angered Chinese social media users and sparked a backlash. However, it appears Mr Ng's video was deleted very quickly – and before any significant backlash emerged on Chinese social media at all. Observers have long argued that artists and companies have begun self-censoring in order to attract Chinese audiences.