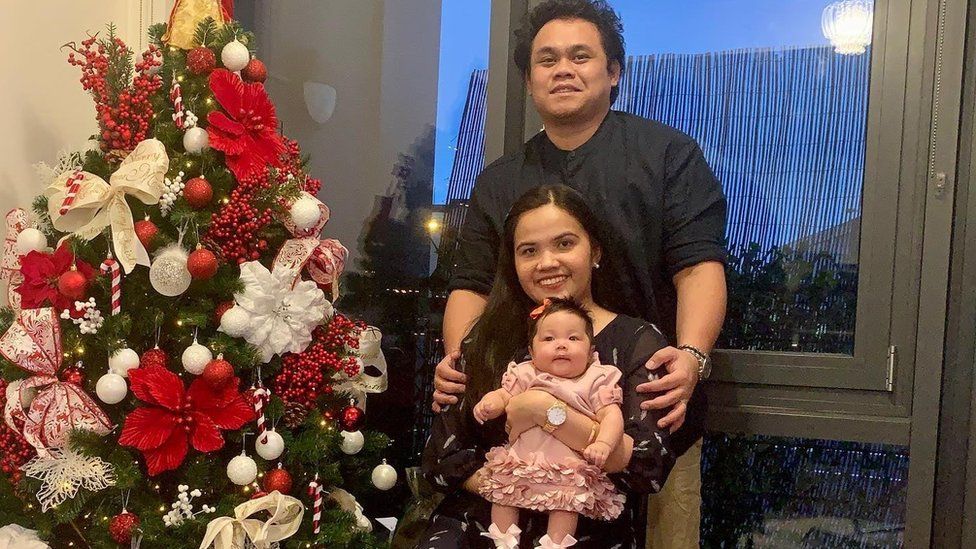 A nurse who gave birth nearly three months ago while seriously ill with Covid-19 has held her daughter for the first time. Eva Gicain, 30, had the long-awaited reunion with her baby after being discharged from Royal Papworth hospital in Cambridge earlier this month.
Baby Elleana had to be delivered about a month early by C-section, but Mrs Gicain has no memory of her birth. "When I held Elleana for the first time I didn't want to let go," she said. "It was a special moment." Mrs Gicain was taken to her local hospital with a severe case of Covid-19 at the end of October when she was 34 weeks pregnant, and gave birth a week later, but the NHS nurse, who was on maternity leave from her job in London, has no recollection of it or the traumatic weeks that followed. Days later she was transferred 50 miles (80km) away to Royal Papworth Hospital's critical care unit and became one of the youngest patients ever to be put on to its "artificial lung" for acute respiratory failure.
The extracorporeal membrane oxygenation (ECMO) machine acted as Mrs Gicain's lungs so they could recover while she was treated for Covid-19. "The first thing I remember is just a few days before Christmas and being told where I was, what I had been through and that Elleana was doing well," Mrs Gicain said.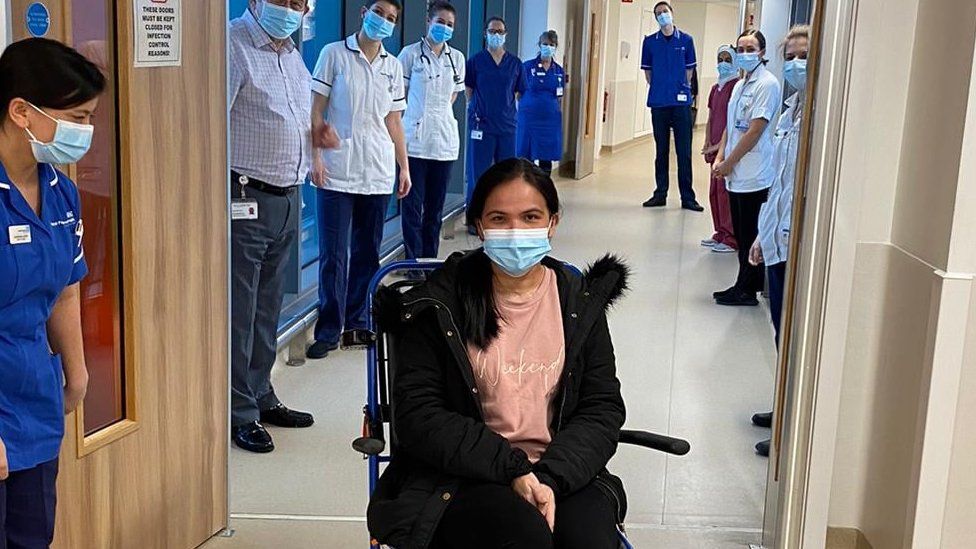 Her husband Limuel, 30, who also had Covid-19, was unable to visit her and had to wait three weeks to see Elleana, who was in a special care baby unit. "It was so horrible the three of us being in separate places at a time when we should all have been together," Mr Gicain said. Although the couple knew they were having a girl and had discussed her name, Mr Gicain, a healthcare assistant, said he did not know his wife's preferred spelling. "It meant I couldn't yet get her registered," he said.
"Luckily, I found some personalised pyjamas that Eva had bought as a Christmas present and so I managed to get the spelling from there!" The couple and their daughter celebrated a belated Christmas last week at their home in Basildon, Essex. "Life is unpredictable and we are now just looking forward to being a little family and spending time together," added Mrs Gicain.