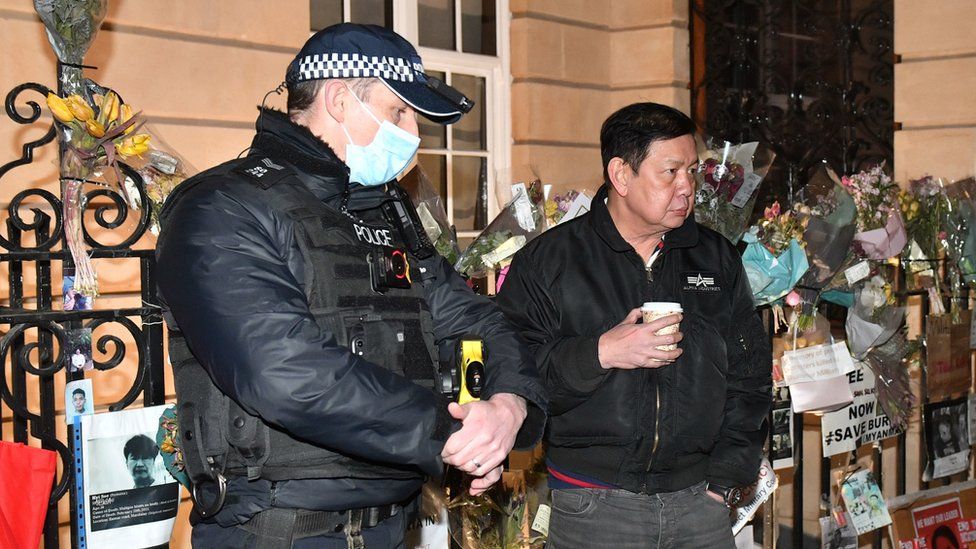 Myanmar's ambassador in London has spent the night in his car after saying he was locked out of his embassy. Kyaw Zwar Minn said staff were asked to leave the building by Myanmar's military attaché on Wednesday night, and he was told he was no longer the country's representative.
British Foreign Secretary Dominic Raab has condemned the "bullying actions". Myanmar's military seized power in a coup on 1 February, sparking weeks of protests and escalating violence. Kyaw Zwar Minn has called for ousted leader Aung San Suu Kyi to be released.
More than 500 people – including dozens of children – have been killed so far as pro-democracy protesters demand a return to power of elected leader Ms Suu Kyi and her National League for Democracy (NLD) party.
Kyaw Zwar Minn described Wednesday's events as "a kind of coup, in the middle of London", Reuters reported. "I have been locked out… This kind of coup is not going to happen," he added. The ambassador was pictured standing on the street outside the embassy in London's Mayfair speaking to officers from the Metropolitan Police force.
Police were reportedly called to stop staff re-entering the building. Protesters gathered outside the embassy after news that the ambassador had been locked out emerged. Deputy ambassador Chit Win is said to have taken over as charge d'affairs in London, Reuters reported, citing diplomats with knowledge of the matter.
In March, Kyaw Zwar Minn called for the release of Ms Suu Kyi and told the BBC that Myanmar was "divided" and could be at risk of a civil war. He maintained that his remarks were not "betraying the country", adding that he was standing on "middle" ground. The Myanmar government later issued a statement saying he was recalled.
The ambassador spent the night curled up in his personal SUV, centimetres from the embassy he finds himself exiled from. A grey van was on the other end of the street, with consular staff and activists awake and monitoring the situation.
One ousted official told me he is adamant the UK Foreign Office will shortly back them over the junta and they can cross the road and get back in. But the half-dozen police officers guarding the entrance as they brave the freezing temperatures suggests otherwise. British diplomats and politicians have a hard choice to make.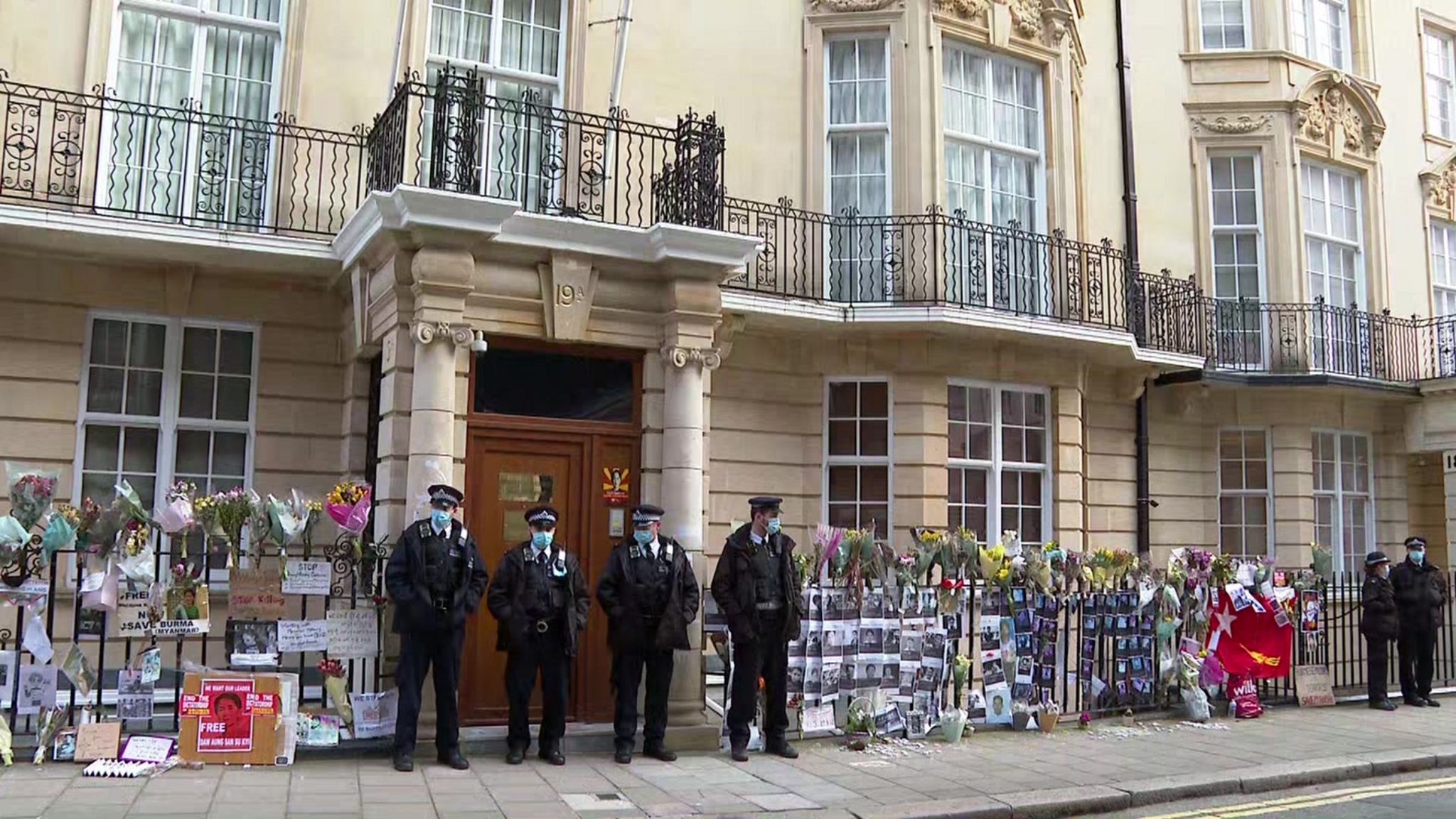 We may also be seeing the last of the heart-breaking pictures in the flower-lined, candle-lit memorial to the dead, that line Charles Street's black decorative railings. One can only assume that if the changing of the guard is made permanent that may be packed up too.
It is a sleepy street right now but with the anticipated arrival of demonstrators later on Thursday, with three police trucks parked nearby, it may become a rallying point against military action aimed at both the current occupants and their overseas masters.