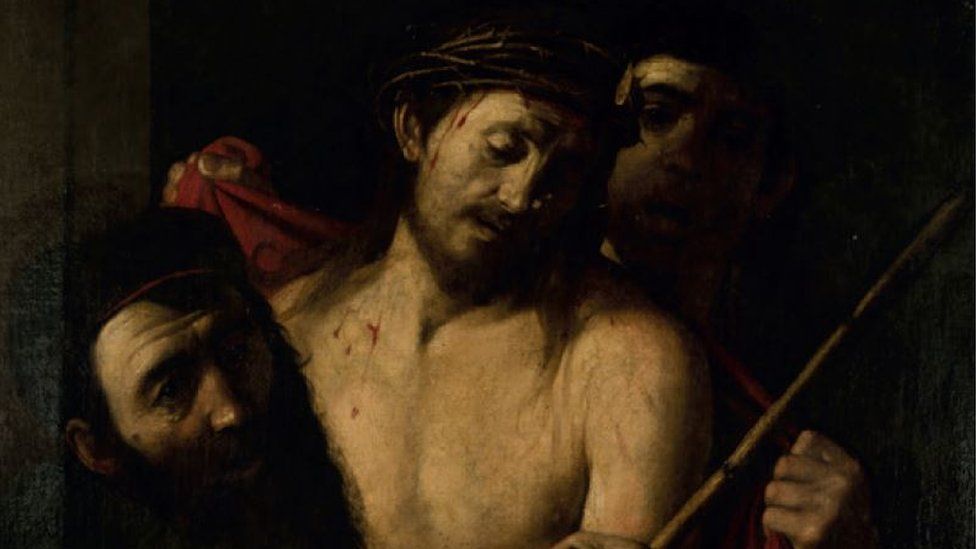 Spain has blocked the auction of a painting in Madrid, following suggestions it could be a long-lost masterpiece by the Italian Renaissance artist Caravaggio.
The starting price for Crowning of Thorns was initially 1,500 euros (£1,300; $1,800), but if it is indeed by Michelangelo Caravaggio, it could be worth up to €150m. The painting is being examined by experts and declared "not for export".
The 17th Century oil painting depicts Jesus just before his crucifixion and, according to the auction catalogue, is attributed to Spanish artist Jose de Ribera.
With concerns the work could be sold abroad, the Spanish government moved quickly and blocked the auction just hours before the painting was due to go under the hammer.
"As to who painted it, different experts are studying the work and right now we have no further information. The painting has been declared 'not for export' and will not be able to leave Spain," a spokeswoman at Ansorena auction house in Madrid told AFP.
"The painting is valuable, we hope it's a Caravaggio," Spain's Minister of Culture José Manuel Rodríguez Uribes said.
Emergency talks were held after the Prado Museum in Madrid told the culture ministry there was "sufficient documentary and stylistic evidence to consider that the painting… may be an original work by Caravaggio," a source from the ministry said, quoted by AFP. Some experts have no doubt whose brushstrokes are on the canvas.
"It's him," Maria Cristina Terzaghi, an art history expert told Italy's La Repubblica newspaper. Ms Terzaghi added the cloak worn by Jesus was similar to the red used in the cloak of Salome in Caravaggio's painting of Salome with the head of John the Baptist.
"It is now necessary to carry out an in-depth technical and scientific study of the painting and engage in academic debate as to whether its attribution to Caravaggio is truly plausible and acceptable to the scientific community," a source at the culture ministry told AFP.
Caravaggio's artistic style was to use extreme dark and light, and few other colours, thus making a flash of red or yellow seem almost luminescent on the canvas.
Art historians use various methods to determine the legitimacy of an artwork, including forensic examination of the canvas and paint to determine its age, the technology and styles of the era it was created in, and the techniques of the artist or their students.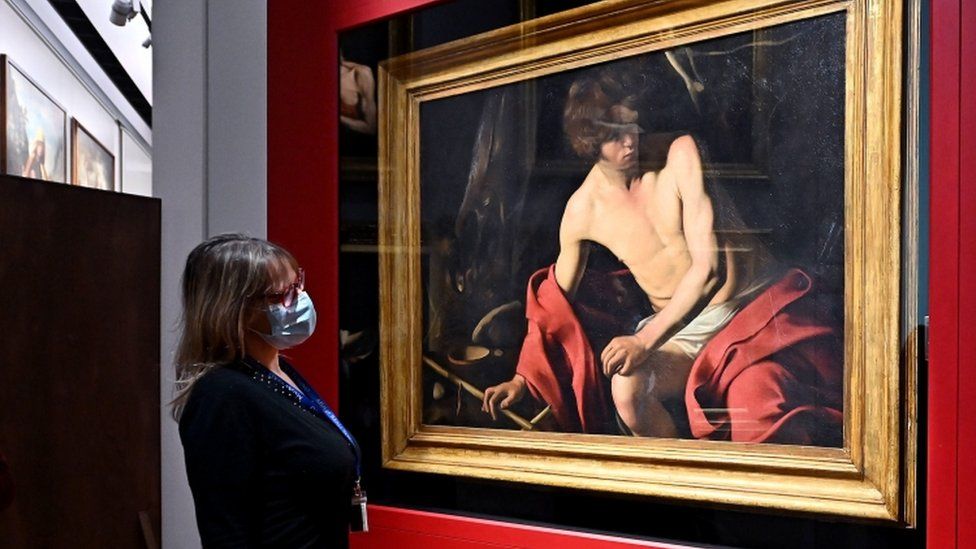 It's not the first time a Caravaggio masterpiece has unexpectedly appeared. In 2014, a version of the work Judith Beheading Holofernes was found under an old mattress in the loft of a house in Toulouse, France.
With an estimated value of up to $170 million, the painting was purchased by an anonymous foreign buyer just two days before it was due to be sold at auction.
Caravaggio – whose real name was Michelangelo Merisi, was born in 1571 or 1573 and had a violent and chaotic life, dying in mysterious circumstances at the age of 38.
He pioneered the Baroque painting technique known as chiaroscuro, in which light and shadow are sharply contrasted.
He was famed for starting brawls, often ended up in jail, and even killed a man. He was allegedly on his way to Rome to seek a pardon when he died, having spent the last few years of his life fleeing justice in southern Italy.