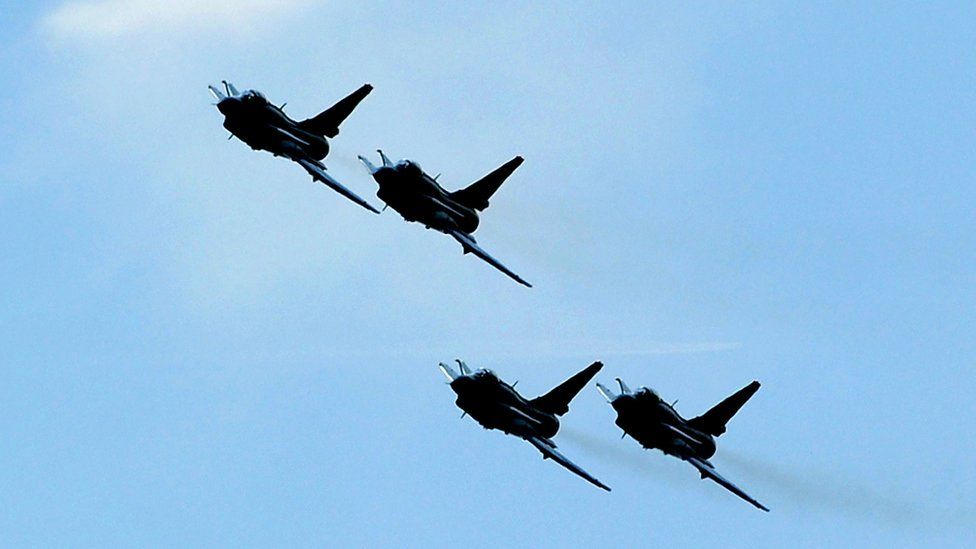 Taiwan has said a record number of Chinese military jets flew into its airspace on Monday, the defence ministry said 25 aircraft including fighters and nuclear-capable bombers entered its so-called air defence identification zone (ADIZ) on Monday.
The incursion is the largest in a year and comes as the US warns against an "increasingly aggressive China". Beijing views Taiwan as a breakaway province, however, democratic Taiwan sees itself as a sovereign state. The latest Chinese mission involved 18 fighter jets, as well as four bombers, which can carry nuclear weapons, two anti-submarine aircraft and an early warning aircraft, Taiwan said. The defence ministry added they dispatched combat aircraft to warn the Chinese jets, while missile systems were deployed to monitor them.
China has carried out regular flights over the international waters between the southern part of Taiwan and the Taiwanese-controlled Pratas Islands in the South China Sea in recent months. Monday's incursion also saw the jets fly into the ADIZ to the south-west of Taiwan near the Pratas Islands. The latest incident came a day after US Secretary of State Antony Blinken said the United States was concerned about China's "increasingly aggressive actions" towards Taiwan. In an interview with NBC he reiterated that the US had a legal commitment to Taiwan and said Washington would "make sure Taiwan has the ability to defend itself", adding that it would be a "serious mistake for anyone to try to change the status quo by force".
Analysts say Beijing is becoming increasingly concerned that Taiwan's government is moving the island towards a formal declaration of independence and wants to warn President Tsai Ing-wen against taking steps in that direction. President Tsai, however, has repeatedly said that Taiwan is already an independent state, making any formal declaration unnecessary. The island has its own constitution, military, and democratically elected leaders. China has not ruled out the possible use of force to achieve unification with Taiwan.