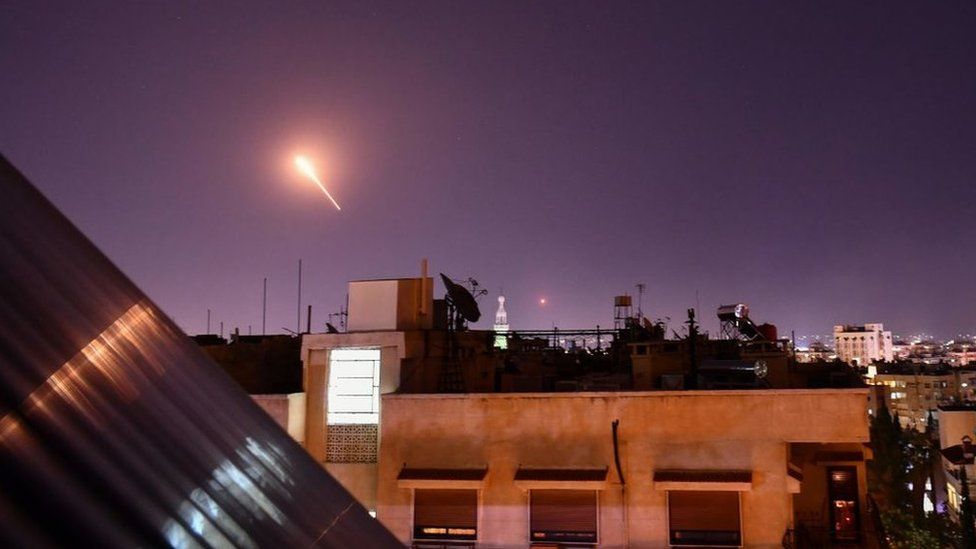 A Syrian anti-aircraft missile has exploded in southern Israel, only 30km (20 miles) from a secret nuclear site.
Warning sirens went off before a loud explosion was heard in the Dimona area. No injuries or damage were reported.
The Israeli military said the missile was one of several that had earlier been fired towards an Israeli aircraft. It responded by attacking several air defence batteries in Syria.
Syria's military said Israeli missiles targeted sites around Damascus.
Most of the missiles were intercepted and downed, but four Syrian soldiers were injured and there was "some material damage", it added.
The Syrian Observatory for Human Rights, a UK-based monitoring group, reported that Israeli missiles hit an air defence base in the town of Dumayr, about 40km (25 miles) north-east of Damascus.
The area was believed to be the location of weapons depots belonging to Iran-backed militias fighting alongside the Syrian military in the country's civil war.
Recently, it has been reported that Israeli air defences around Dimona and the Red Sea port of Eilat have been boosted in case of a possible attack by Iran-backed forces in the region, including those in Syria.
Tensions remain high between the arch-foes, with Iran blaming Israel for a sabotage attack on its Natanz uranium enrichment plant earlier this month. Israel did not say it was behind the incident.
Israel's Dimona nuclear facility is said to have produced nuclear weapons. Israel neither confirms nor denies having nuclear weapons under its policy of "ambiguity".