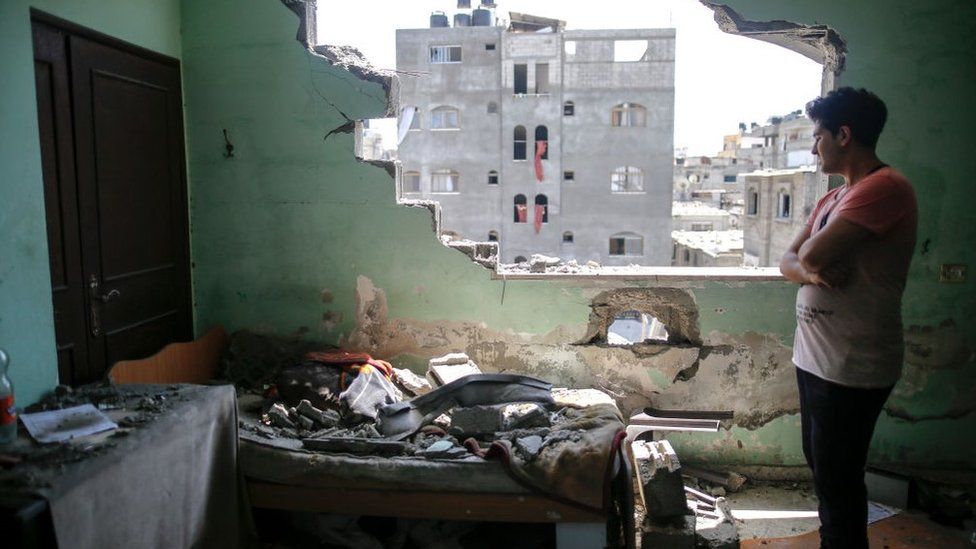 A ceasefire between Israel and the Palestinian militant group Hamas has come into effect. The ceasefire began early on Friday, bringing to an end 11 days of bombardment in which more than 240 people have died, most of them in Gaza. Palestinians poured onto the streets of Gaza soon after the truce began, while a Hamas official warned its hands "are on the trigger". Both Israel and Hamas have claimed victory in the conflict.
US President Joe Biden said that the ceasefire brought "genuine opportunity" for progress. On Thursday more than 100 Israeli air strikes targeted Hamas infrastructure in the north of Gaza. Hamas retaliated with rocket fire. Fighting began in Gaza on 10 May after weeks of rising Israeli-Palestinian tension in occupied East Jerusalem that culminated in clashes at a holy site revered by both Muslims and Jews. Hamas began firing rockets after warning Israel to withdraw from the site, triggering retaliatory air strikes.
At least 232 people, including more than 100 women and children, have been killed in Gaza, according to its Hamas-controlled health ministry. Israel has said at least 150 militants are among those killed in Gaza. Hamas does not give casualty figures for fighters. In Israel 12 people, including two children, have been killed, its medical service says. Israel says some 4,000 rockets have been fired towards its territory by militants in Gaza.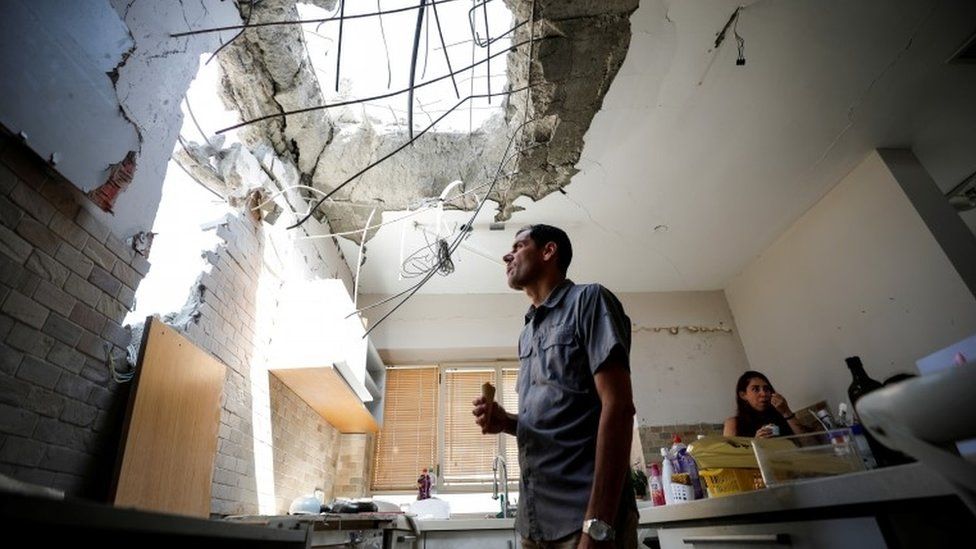 The Israeli Political Security Cabinet said it had "unanimously accepted the recommendation" for a ceasefire. "The political echelon emphasizes that the reality on the ground will determine the continuation of the campaign," it added. Israeli Defence Minister Benny Gantz said on Twitter that the Gaza offensive had yielded "unprecedented military gains". A Hamas official told the Associated Press that the ceasefire announced by Israel amounts to a "victory" for the Palestinian people and a defeat for Israeli Prime Minister Benjamin Netanyahu.
Soon after the ceasefire started at 02:00 on Friday (23:00 GMT Thursday), large numbers of Palestinians took to the streets of Gaza in cars and on foot to celebrate. Loudspeakers from mosques pronounced "the victory of the resistance achieved over the Occupation during the 'Sword of Jerusalem' battle". But Basem Naim, from the Hamas Council on International Relations, told reporters he was sceptical about whether the truce would last. "Without justice for Palestinians, without stopping the Israeli aggression and Israeli atrocities against our people in Jerusalem, the ceasefire will continue to be fragile," he said.
A member of Hamas' political bureau, Ezzat al-Reshiq, issued a warning to Israel. "It's true that the battle ends today but Netanyahu and the whole world should know that our hands are on the trigger and we will continue to ramp up the capabilities of this resistance," he told the Reuters news agency. "We tell Netanyahu and his army, if you come back, we will come back." Just as in the other wars since Hamas took over in Gaza in 2007, the two sides are claiming victory.
A senior Hamas leader told reporters in Gaza that Israel had promised to "lift their hand off Sheikh Jarrah and Al-Aqsa Mosque". He was referring to one of Islam's holiest mosques and the Jerusalem district which became a flashpoint during an attempt to evict Palestinian families from their homes. Israel denied there was any such understanding. Benny Gantz, the defence minister issued a statement saying that after the past eleven days Israel can show military achievements "unprecedented in their scale and strategic significance for the struggle with terrorist organisations in Gaza".
On both sides survivors and the bereaved from missiles and bombs are not claiming victory. By far the majority of the dead and injured are Palestinians in Gaza, which also suffered hundreds of millions of dollars of physical damage. The horrible tradition in these things is that sometimes both sides like to show they can fire the last shot and there is an intense period in the last hour or so, I hope that doesn't happen, but it might. Both sides have also been crafting what is referred here sometimes as victory narratives.
It is the fourth big war between Israel and Hamas since the first one back in the end of 2008 and after each of those encounters, and all the smaller ones in between, similar things have been said by both sides in claiming victory and then essentially the seeds of the next conflict are sewn. I can tell you one thing for certain – that if the status quo does not change favourably, there will be another round of this.