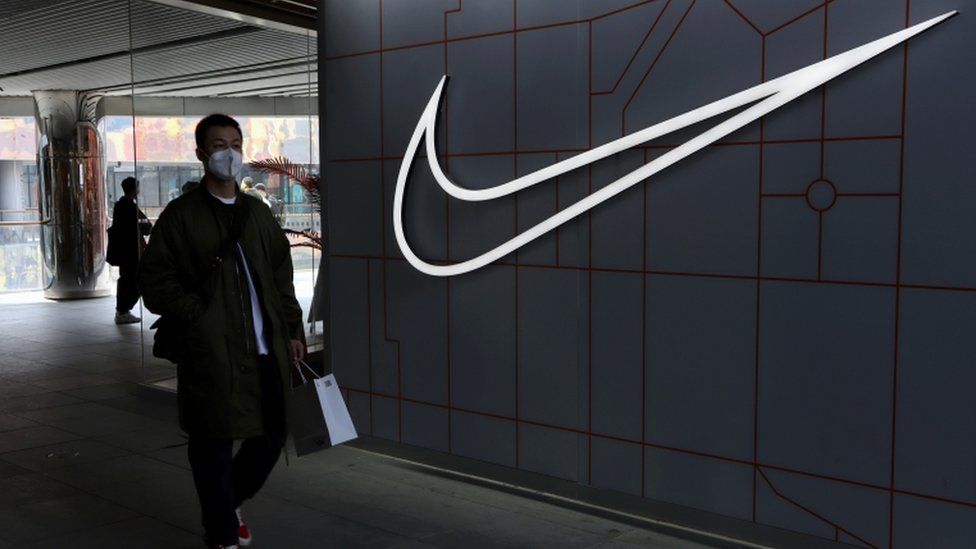 The boss of Nike has made a robust defence of the firm's business in China after facing a consumer boycott there.
Chief executive John Donahoe said "Nike is a brand that is of China and for China" in response to a question about competition from Chinese brands.
Mr Donahoe was speaking during a call with Wall Street analysts about Nike's latest earnings report.
The comments come after the sportswear giant was recently hit by a backlash over statements about Xinjiang.
Mr Donahoe made the comments during a discussion on Nike's fourth quarter earnings, which showed revenues had doubled to a better-than-expected $12.3bn (£8.8bn) for the three months to the end of March.
That helped it bounce back to a $1.5bn profit, from a $790m loss during the depths of the pandemic a year earlier.
The figures also showed that revenue in China rose to more than $1.9bn, but missed Wall Street expectations of $2.2bn.
Mr Donahoe said he remained confident that China would continue to be a fast-growing market for the company due to its many years of investment there.
"We've always taken a long term view. We've been in China for over 40 years," he said.
"Phil [Knight] invested significant time and energy in China in the early days and today we're the largest sport brand there," he said in reference to Nike's co-founder and former chief executive who first saw the potential for growth in the country.
The company's shares rose by more than 14% during after-hours trade in New York.