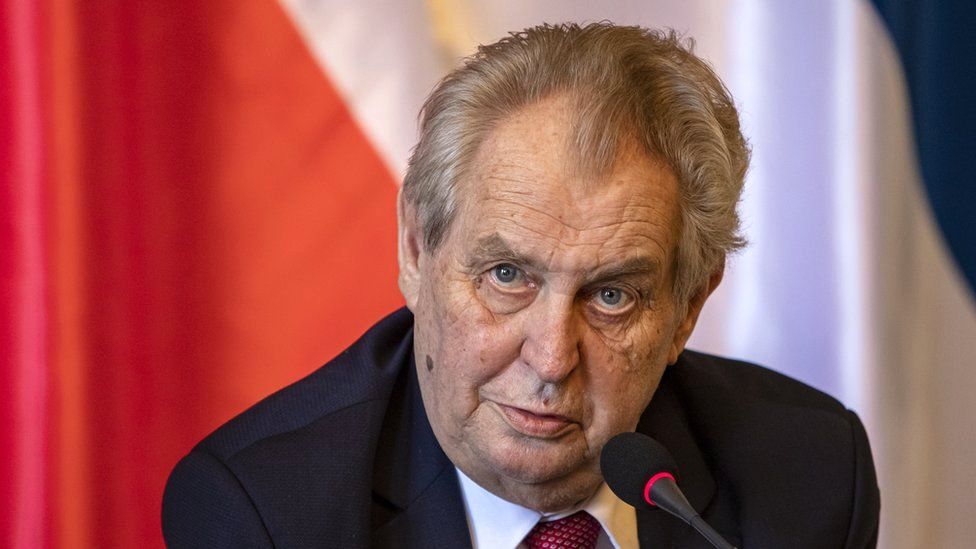 Czech President Milos Zeman has been criticised after saying he thinks transgender people are "disgusting" in a TV interview.
"If you undergo a sex-change operation you are basically committing a crime of self-harm," he said at the weekend.
Mr Zeman was responding to a question about a controversial law in Hungary banning the portrayal or promotion of homosexuality among under-18s.
He said he backed the legislation, which has been condemned by EU leaders.
Mr Zeman is a divisive figure with a history of making controversial remarks. He has a tendency of expressing his views, which are often at variance with government policy, using strong language.
The president has irked many people – both within the country and among the Czech Republic's western allies – by defending Russia's stance on Ukraine and by voicing opposition to the western sanctions against Russia.
Speaking during his weekly televised interview, Mr Zeman said he agreed with Hungarian leader Viktor Orban's view that the law was necessary to prevent children and parents being manipulated by sex education.
"I can understand gays, lesbians and so on," the 76-year-old said. "Do you know who I don't understand at all? The transgender ones… every surgery is a risk and these transgender people to me are disgusting."
He also said that protest marches such as the forthcoming Prague Pride were minorities trying to put themselves on a superior footing to others. He said if he were younger, he would organise a counter-demonstration of heterosexuals.
A spokesperson for Prague Pride, which will be held in the Czech Republic from 2 August, has accused Mr Zeman of adding to the stress of transgender people.
"We were really sad to hear such a statement, especially because it has a damaging effect to mental health of the LGBT+ in [the] Czech Republic" Daniel Zikmund said.
"LGBT+ are discriminated not only socially but even through legislation processes," he said, adding: "This just seems to be going backwards and it is not helping at all."
The Czech Republic is one of the most sexually liberal countries in the former communist bloc, although several of its politicians have resorted to increasingly intolerant rhetoric of late.
Presidential power in the country is limited, but the president has the right to veto any bill already passed by parliament, apart from constitutional bills.
During an EU summit in Brussels last week, Dutch Prime Minister Mark Rutte reportedly asked Mr Orban why Hungary was still in the EU if it did not share its values of tolerance and non-discrimination. Mr Rutte said that Hungary "has no business being in the European Union anymore".
Mr Orban has insisted that Hungary's law has nothing to do with gay rights.