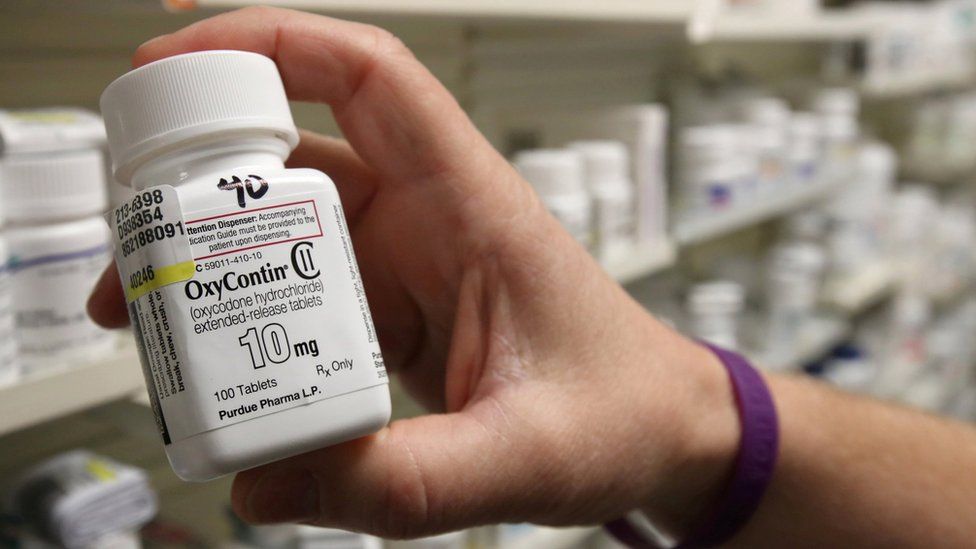 Fifteen US states have dropped their opposition to a bankruptcy plan for Purdue Pharma, clearing the way for a multi-billion dollar settlement.
It marks the first step towards the OxyContin painkillers maker paying out $4.3bn (£3.1bn) to settle cases related to the opioid crisis. The New York attorney general said the funds would be used to "prevent any future devastation".
A total of 10 states still oppose the proposals of pharmaceutical giant. A spokesperson for Purdue Pharma said it would work to "build a greater consensus" for its bankruptcy plan.
They added it would "transfer billions of dollars of value into trusts for the benefit of the American people…who have been affected by the opioid crisis".
In 2020, Purdue entered a guilty plea on criminal charges relating to its promotion of Oxycontin, which it knew was addictive. Those charges included defrauding health agencies and of making illegal payments to doctors.
The company filed for bankruptcy a year previously, saying it would restructure and help tackle addiction.
Reports filed in a New York court on Wednesday showed that 15 states, including New Jersey and Massachusetts, had reached an agreement with Purdue that would see its owners, the wealthy Sackler family, pay an additional $50m.
The Raymond and Mortimer Sackler families said in a statement: "This resolution to the mediation is an important step toward providing substantial resources for people and communities in need. "The Sackler family hopes these funds will help achieve that goal."
As part of the deal, the Purdue Pharma firm will also release millions of documents on its role in the opioid epidemic.
Opioids are a class of powerful drugs found in opium poppies that can be used to block pain signals between the brain and the body. They can be found as legal prescription medications, but they can also be found as illegal street drugs, such as heroin.
Opioid addiction to both legal and illegal drugs has been a serious, ongoing problem in countries such as the US, which had nearly half a million deaths from overdoses between 1999 and 2019, according to the US Centers for Disease Control and Prevention.
New York attorney general Letitia James said: "While no amount of money will ever compensate for the thousands who lost their lives or became addicted to opioids across our state or provide solace to the countless families torn apart by this crisis, these funds will be used to prevent any future devastation."
The deal is subject to approval but would require the Sackler family to pay out the $4.3bn in total over the next nine years.
Under the agreement, the Sackler family would also have to give up control of their foundations to the trustees of a national opioid-related charity.
It also follows on from drugs giant Johnson and Johnson announcing in June it would pay $230m (£165m) to settle claims it fuelled an opioid addiction crisis in New York State.
The firm did not admit liability or wrongdoing in settling with the state, although it must stop selling painkillers nationwide.