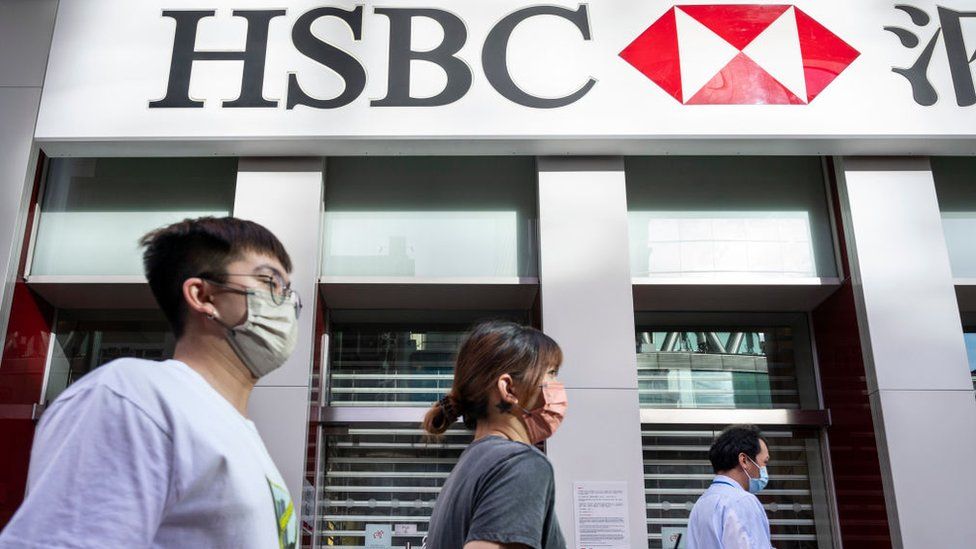 Banking giant HSBC said its first half profit has more than doubled, as it benefited from an economic rebound in Britain and Hong Kong.
Europe's biggest bank by assets saw pre-tax profit for the period rise to $10.8bn (£7.8bn), compared to $4.32bn for the same time last year.
It said all regions had been profitable in the first half of the year. The figures come as the global economy emerges from the impact of the coronavirus pandemic.
"I'm pleased with the momentum generated around our growth and transformation plans, with good delivery against all four pillars of our strategy. In particular, we have taken firm steps to define the future of our US and continental Europe businesses", Group Chief Executive Noel Quinn said in a statement.
The UK-based bank highlighted that its UK bank had reported profit before tax of more than $2.1bn in the period.
In February, HSBC had signalled a "pivot to Asia", outlining plans to invest about $6bn in the region.
It said it would target wealth management and commercial banking to drive "double-digit growth" and has singled out Asian markets such as Singapore, China and Hong Kong. HSBC already generates the bulk of its revenues from Asia.
In January, UK MPs accused HSBC – a Hong Kong founded bank of "aiding and abetting" China's crackdown in Hong Kong.
HSBC faced accusations of acting in a political manner and being too close to the Chinese authorities after it emerged that the bank had frozen accounts belonging to Hong Kong pro-democracy politician Ted Hui and members of his family.
Mr Quinn, appearing before the Foreign Affairs Committee, was told the bank was turning a blind eye to the situation. Mr Quinn mounted a robust defence of the bank, saying: "I can't cherry-pick which laws to follow."