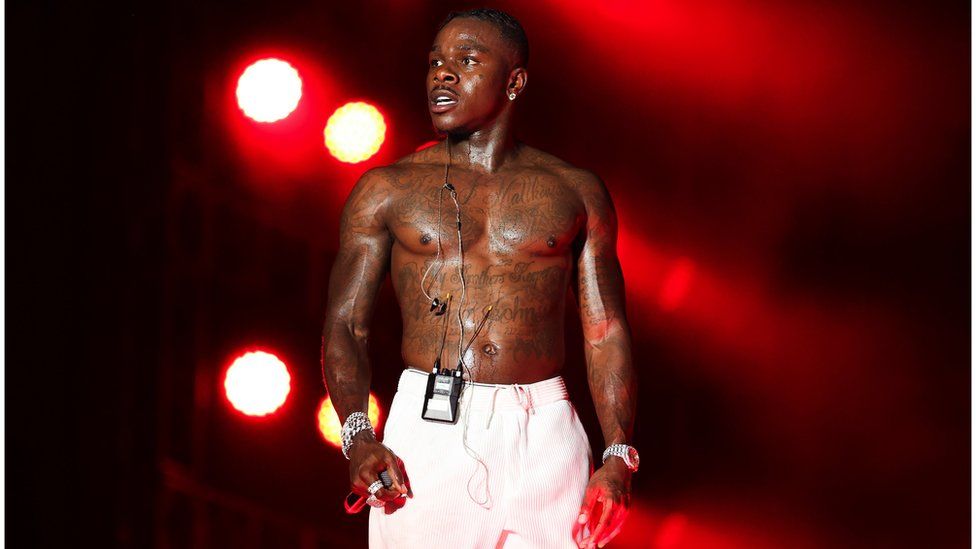 US music festival Lollapalooza has dropped rapper DaBaby from its Sunday line-up over comments he made about people with HIV and Aids.
The Chicago festival tweeted that "Lollapalooza was founded on diversity, inclusivity, respect, and love.
"With that in mind, DaBaby will no longer be performing at Grant Park tonight."
The rapper has been widely condemned for homophobic and derogatory comments he made about HIV and gay men. While performing at Rolling Loud festival in Miami on 25 July, he urged the audience to "put your cell phone light up", apart from those who were HIV-positive or were gay men who had sex in car parks.
He also wrongly claimed that HIV and other sexually transmitted diseases would "make you die in two or three weeks". Lollapalooza said rapper Young Thug would fill DaBaby's slot on Sunday night.
Earlier this week, DaBaby was dropped from a benefit concert for the Working Families Party, a US political party that says it wants "freedom and equality for all".
"We have to hold people accountable and live to our values, which is why there is a change in our line-up," the Working Families Party stated. DaBaby has also parted ways with online fashion retailer Boohoo, with whom he had a clothing deal.
Several musicians have spoken out against the rapper's remarks, among them Sir Elton John, who founded his Aids Foundation charity in 1992. "We must break down the stigma around HIV and not spread it. As musicians, it's our job to bring people together," Sir Elton wrote on Instagram.
DaBaby ultimately tweeted an apology, saying he had been "insensitive" and "anybody who done ever been effected by AIDS/HIV y'all got the right to be upset." But on his Instagram story, he doubled down on the insults by calling people with Aids "nasty" and "junkies on the street".