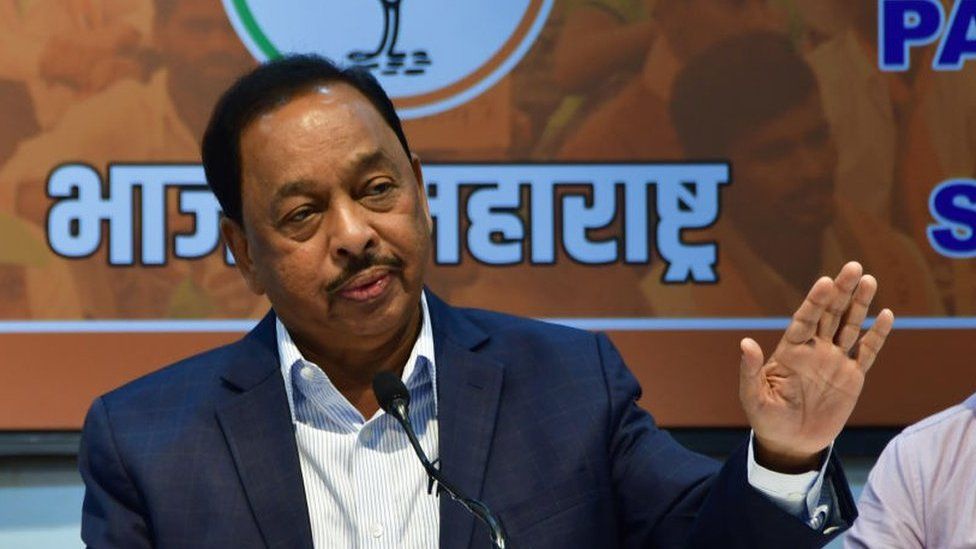 A court has granted bail to an Indian federal minister, Narayan Rane, who was arrested over his remark about slapping Maharashtra state's chief minister.
Mr Rane reportedly said that Uddhav Thackeray forgot the year of India's independence and had to ask an aide during his speech on 15 August.
"Had I been there, I would have given him a slap," he told a rally on Monday.
His comments sparked protests in Maharashtra that were led by Mr Thackeray's Shiv Sena party.
Mr Rane and other members from the governing Bharatiya Janata Party (BJP) said the cases against him were borne out of political malice.
His arrest follows clashes between the members of BJP and Shiv Sena party.
The BJP and the Sena have been at loggerheads since their decades-old political alliance came to a bitter end in 2019.
Shiv Sena party members have registered more police complaints against Mr Rane in connection with the remark, according to local reports.
"It is shameful that the chief minister does not know the year of independence. He leaned back to ask about the count of years of independence during his speech," he is reported to have said.
The Shiv Sena defended the arrest saying his comment was aimed at provoking tensions in Maharashtra, but Mr Rane's party said his arrest was against India's "constitutional values".
Mr Rane used to be a member of the Shiv Sena until 2005 – he first switched to the Congress party and a few years later to the BJP.