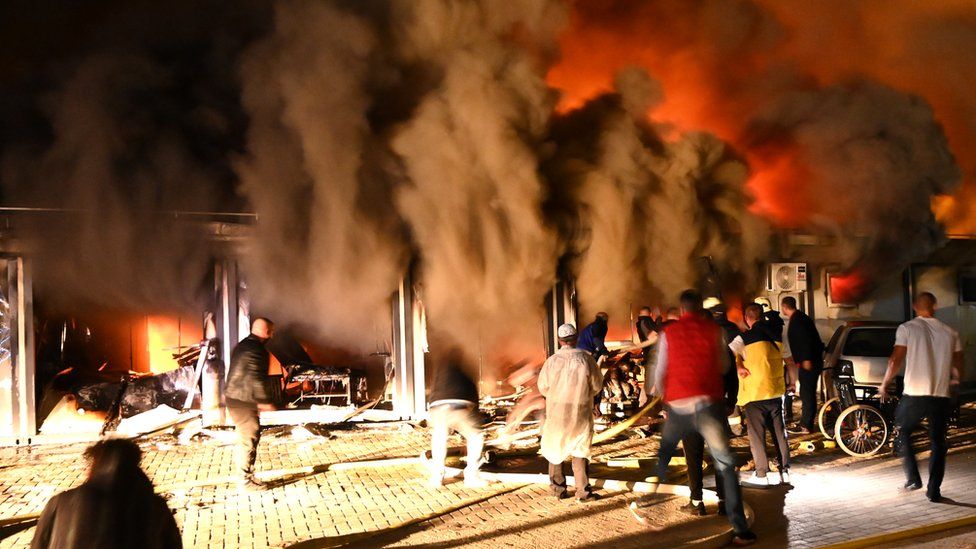 At least 14 people have been killed in a fire at a makeshift hospital treating Covid-19 patients in North Macedonia. Footage shared on social media showed a building in flames and a thick cloud of black smoke billowing into the air near a main road in the city of Tetovo.
Firefighters put out the blaze in less than an hour. It had broken out at about 21:00 local time (19:00 GMT) on Wednesday. Public prosecutors said 14 deaths had been confirmed. They said they were investigating whether there were more victims, as reported locally.
"This is a very sad day," Health Minister Venko Filipce wrote on Twitter, adding that several patients had been "urgently transported" to a hospital in the capital Skopje. "Doctors are fighting for the lives of the injured," Mr Filipce said. He described the fire as a "terrible accident", but provided no further details.
Tetovo's deputy fire chief Saso Trajcevski said the fire spread rapidly inside the building after oxygen cylinders exploded. Footage showed flames bursting through the windows in the portable buildings that made up the modular hospital.
Although his team reached the building quickly, he said the large amount of plastic meant that the fire was intense and it was not immediately clear how many people were being treated there at the time.
"This is a truly tragic event," said Prime Minister Zoran Zaev in a statement posted to Facebook, adding: "The cause of the fire will be determined." The temporary facility was reportedly constructed last year to care for people made seriously ill from the coronavirus.
Oxygen cylinders have been blamed for a number of fires at hospitals treating coronavirus patients since the pandemic began. Ten people died in a fire at Gaziantep in Turkey last December, and a similar fire claimed 10 lives in Peatra Niamt in Romania in November 2020.
North Macedonia has a population of about two million people and, with Covid-19 vaccination rates below 30%, it has seen a recent surge in cases and deaths. Tetovo is one of the most affected areas, as many expat Macedonians are said to have visited friends and relatives there during the summer months.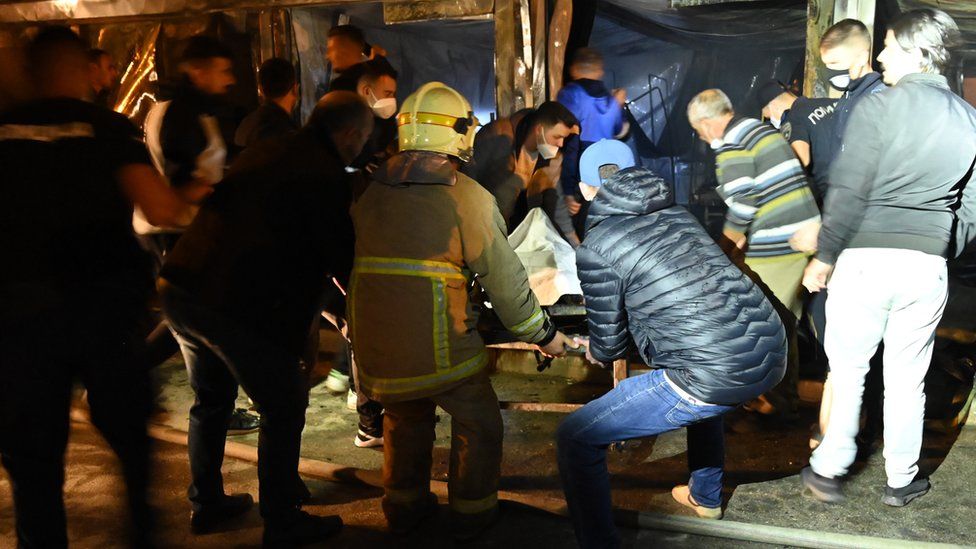 Mayor Teuta Arifi spoke of her regret that the victims had been in the hospital for coronavirus treatment. The Republika website said most of the patients were in a moderate condition as the most serious cases had been transferred to the capital Skopje for treatment.
One infectious diseases specialist, Zaklina Sopova, complained that makeshift hospital facilities had been set up without proper safety standards.
North Macedonia has reported more than 180,000 cases of Covid-19 and 6,153 coronavirus-related deaths since the start of the pandemic, according to Johns Hopkins University data. A further 24 deaths were reported over the past day on Wednesday.