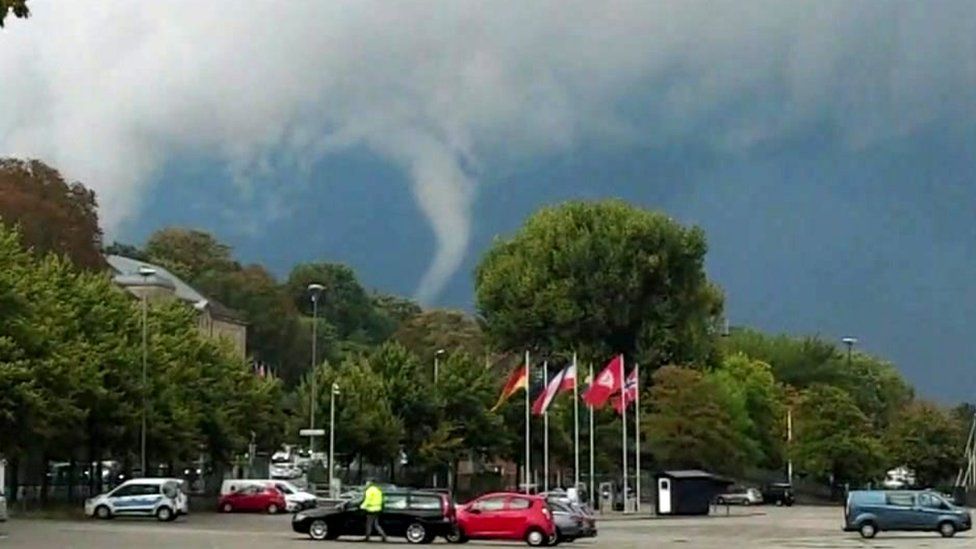 A rare waterspout caused by a tornado has struck the German port city of Kiel, throwing people from boats and damaging property.
Several rowers out in the water were injured as winds of over 100km/h 62mph lashed the northern coast, police said. Four people were seriously hurt in Kiel's dockside area.
The roofs of some buildings were torn off and trees were uprooted. Waterspouts occur when a tornado forms over oceans, rivers or lakes.
They usually disperse after a few minutes, but they can pose serious danger to boats that get close.
In Kiel, on Germany's Baltic Sea coast, members of a rowing club were thrown into the water and people jumped into the water to pull them to shore.
Several people were taken to a nearby hospital for treatment but were said to be safe. Some 60 rescue workers, including firefighters, were deployed on Wednesday.
One resident described going into "shock" when part of her roof was blown away. "I screamed, I couldn't breathe," Barbara Wittich told Germany's NDR news.
Kiel is braced for further high winds and heavy rainfall into the weekend, according to Germany's weather service.