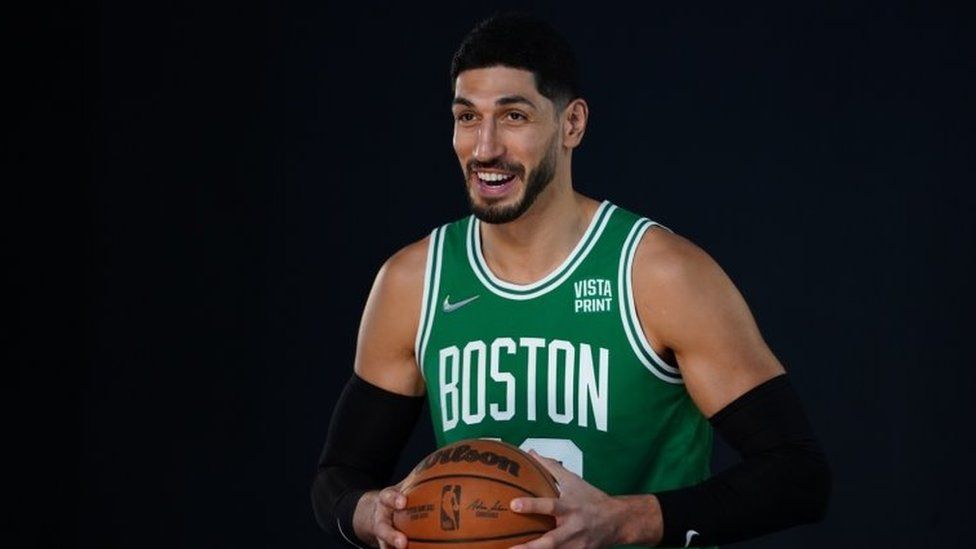 Boston Celtics basketball player Enes Kanter is under fire in China after calling President Xi Jinping a "brutal dictator". In a video posted to Twitter, he also expressed support for the Free Tibet movement.
His name has since been blocked from Chinese social media site Weibo, and the streaming of Celtics games has reportedly been cancelled. China's foreign ministry has accused Kanter of "trying to get attention". It comes two years after tweets from then Houston Rockets general manager Daryl Morey prompted China's broadcaster to cease showing NBA games.
"My message for the Chinese government is free Tibet," Kanter told his followers. "Tibet belongs to Tibetans."
China has long been accused of suppressing cultural and religious freedom in Tibet, a remote and mainly Buddhist region. The government denies the accusations and says Tibet has developed considerably under its rule. On the same day as his video, Kanter showed off shoes with the phrase "Free Tibet" designed by Australia-based Chinese dissident cartoonist Badiucao. He had planned to wear them for his match against the New York Knicks but did not play. It's unclear whether the decision not to play Kanter was related to his political message.
Badiucao told the BBC that Kanter reached out to him weeks ago regarding collaborating on this project. "He has a very clear idea that he wants to advocate for the Tibetan community," the cartoonist said. "It's a disappointment that he was not given a single minute on the court." Future Celtics matches are not listed as available for live broadcast on Chinese streaming app Tencent. On the Celtics' official page, some fans called for him to be removed from the team while others urged an apology. China's Foreign Ministry spokesman Wang Wenbin said Kanter's remarks "were not worth refuting".
"We will never accept those attacks to discredit Tibet's development and progress," he said. Kanter, who is known for his activism, has had his Turkish passport removed by the country's government over his remarks about President Recep Tayyip Erdogan. In 2019, prosecutors in Turkey issued an international arrest warrrant for Kanter, claiming he had links with armed groups behind a 2016 failed coup. Kanter denies the allegations. The NBA has once again stepped onto a political landmine in one of its biggest markets.
Overnight, Enes Kanter has been largely wiped out from China's internet, but compared to Daryl Morey's Hong Kong tweet that set off a social media firestorm two years ago, reactions in China toward Kanter's comments have been relatively subdued. Many NBA fans in China may know little about what exactly Kanter said, only realizing the fact that he has offended the authorities. Without mentioning Kanter's comments, an NBA blogger in China says the player "forgot his own place" and tried to ingratiate himself with the US. "He is just a basketball player… He should focus on playing the ball." The bigger picture of this controversy is that with the 2022 Beijing Winter Olympics around the corner, politics and sports appear to be on a colliding path.
Activists have been urging a boycott of the Beijing Olympics over the country's human rights record, while China has repeatedly slammed these calls as "politicization of sports". A senior member of the International Olympic Committee recently said that it's beyond the organization's power to hold the Chinese government accountable for any human right abuses. As both China's sporting prowess and its tension with the West continue to rise, it will soon be almost impossible for athletes, companies and international leagues to untangle the complicated link between politics and sports.