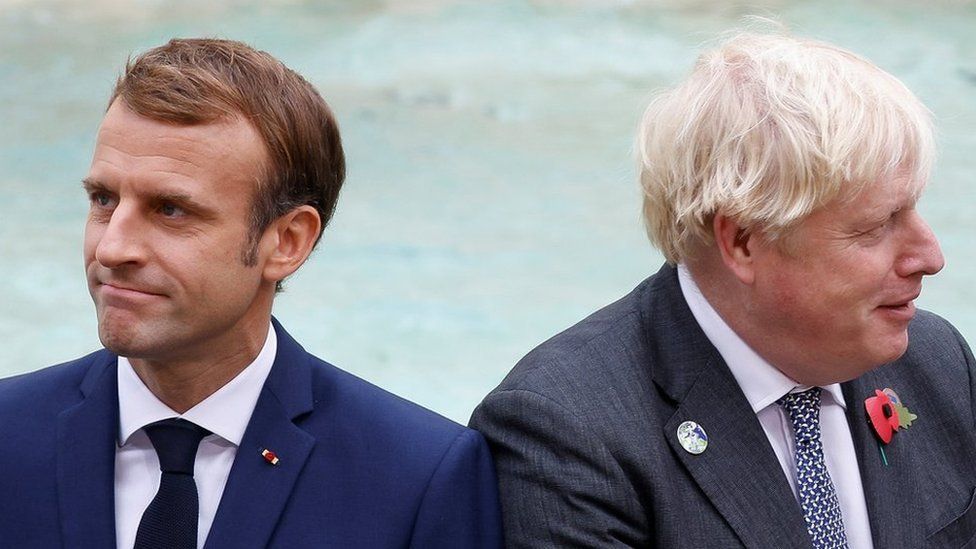 Boris Johnson and French President Emmanuel Macron remain at loggerheads in the ongoing dispute over permits for fishing boats.
On Sunday, the leaders met to discuss tensions and the UK government said it was "up to France" to step back from threats over port access. But Mr Macron said the ball was "in Britain's court" and he hoped there would be a positive response on Monday.
Mr Macron added it was not a bilateral issue for the nations but an EU issue. The row comes ahead of Tuesday, which is the deadline for more permits to be granted for French fishing boats to operate in British waters. Otherwise UK fishing boats could be barred from some ports, French officials have warned.
Following the meeting on Sunday, French officials said the pair had agreed to work on a solution in the "next hours and days". But later, a spokesman for Mr Johnson said no measures had been agreed. Mr Johnson said it was a "wide ranging and frank discussion", and insisted that should be expected "between long standing friends and very, very close allies".
On Friday, a letter from the French Prime Minister Jean Castex to European Commission president Ursula von der Leyen, said the EU must demonstrate in this dispute that there was "more damage to leaving the EU than remaining there". Mr Johnson said he was "puzzled" by the letter: "I must say I was puzzled to read a letter from the French prime minister explicitly asking for Britain to be punished for leaving the EU.
"I just have to say to everybody I don't believe that that is compatible either with the spirit or the letter of the Withdrawal Agreement or the Trade and Cooperation agreement, and that's probably all I'll say about that one." It was perhaps inevitable there'd be a moment – or more than one moment – where the Brexit deal, the Trade and Cooperation Agreement, would be tested.
The new legal arrangements between the UK and EU set out how the two sides should interact, after decades of shared rules with the UK inside the bloc. First there were the rows about the Northern Ireland Protocol. And now fish. Strikingly, the prime minister has leant into the leaked letter from his French opposite number, Jean Castex, which had said the EU must demonstrate there was "more damage to leaving the EU than remaining there."
Whatever the subsequent questions about the translation of chunks of the letter, Boris Johnson chose to point to it as a source of not just irritation, but something "not compatible with the spirit or letter" of the Brexit agreement.