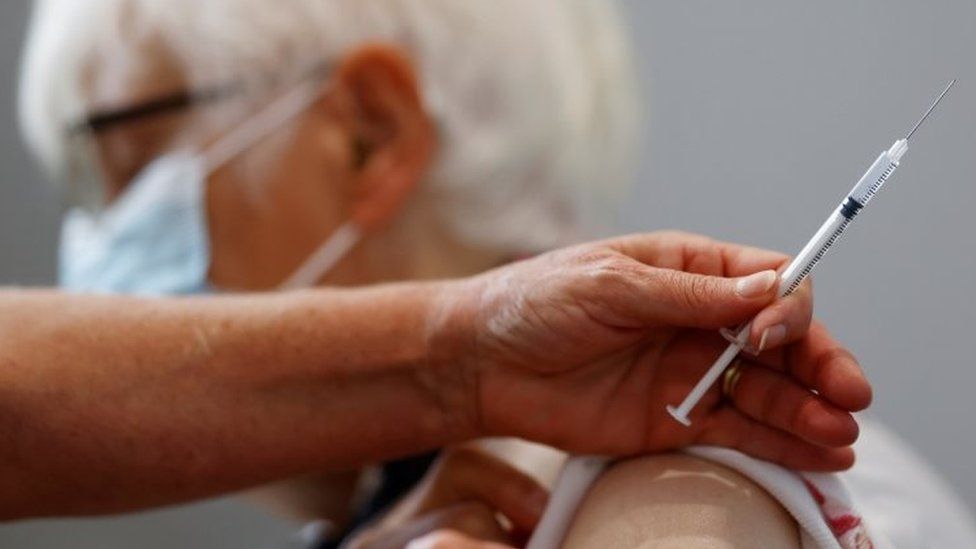 Over-65s in France will soon only be allowed to travel or visit restaurants and museums if they have a Covid-19 booster jab, President Emmanuel Macron has said.
"From 15 December, you will need to provide proof of a booster jab to extend the validity of your health pass," he warned in a TV address.
The new rule further tightens one of the strictest Covid-19 regimes in Europe. Despite high vaccination rates, France is seeing a spike in daily infections.
On Tuesday, the country reported 12,476 new confirmed infections within 24 hours – the highest level since early September.
Covid-19 has claimed the lives of more than 118,000 people in France since the start of the outbreak.
"We have not finished with the pandemic," President Macron said in his address, adding that the infection rates jumped 40% over last week.
He said all the evidence showed that six months after a person was vaccinated "immunity decreases and therefore the risk of developing a serious form [of Covid] increases".
"The solution to this decrease in immunity is an additional vaccine shot," he said.
The president said that next month booster jabs would be also made available to those aged between 50 and 64, stressing that more than 80% of Covid-19 patients currently being treated in intensive care units were aged over 50.
The health pass became a key requirement across France in late July. People need to show proof of vaccination, a negative test or recent recovery from Covid-19 to enter most museums and cinemas, or travel by train and plane.