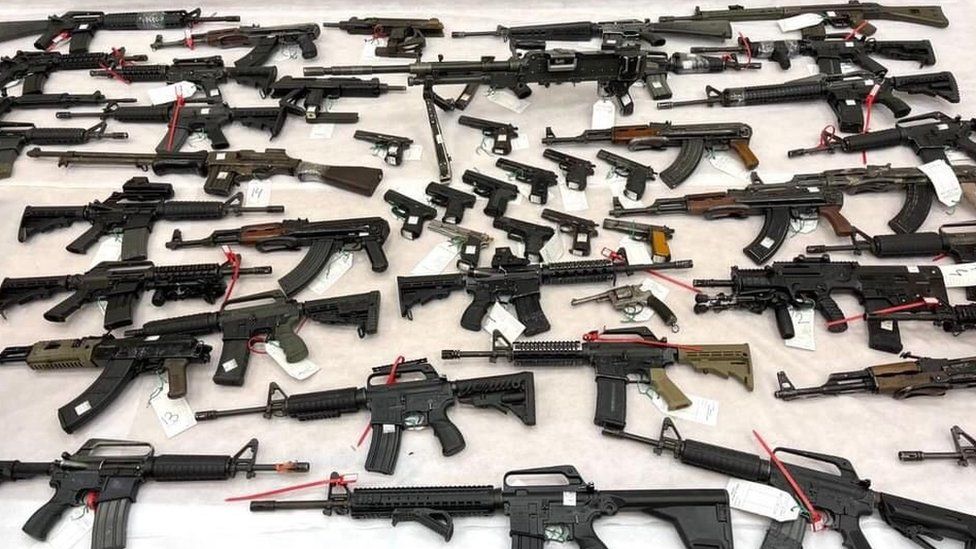 Israeli police have arrested 65 Israeli Arabs on suspicion of illegal arms dealing in what they say was the biggest ever operation of its kind.
The suspects were primarily from northern Israel but also from the occupied West Bank and East Jerusalem.
A former criminal recruited as an undercover agent bought dozens of weapons, including 25 M16 rifles, a machine gun and an anti-tank missile.
The government has promised to tackle a deadly crime wave in the community.
At least 106 Israeli Arabs, including women and children, have been murdered in the past year, according to a tally by the Abraham Initiatives, a non-governmental organisation.
The officer in charge of the overnight operation warned that illegal weapons dealing in the Arab community had "gone way out of proportion and become monstrous".
"We dried up the swamp a little, but this is not enough," Northern District commander Shimon Lavi was quoted as saying by the Haaretz newspaper.
He expressed hope that the arrests would serve as a deterrent, but added that there was "a big demand for arms in the Arab community, partly because there is a lack of feeling of personal safety and easy access to weapons".
The operation was welcomed by Public Security Minister Omer Bar-Lev and Israeli Arab members of parliament. The head of the Arab Joint List Party, Ayman Odeh, said it showed the police could work for Arab as well as Jewish citizens.
Bereaved families and Arab officials claim that police inaction is one of the main reasons for the high murder rate, while the police say investigations are often hampered by a lack of co-operation and trust.
Arabs comprise about one fifth of Israel's population of 9.3 million.
They descend from Palestinians who became Israeli citizens following the creation of the state in 1948-49. Many still self-identify as Palestinian or express solidarity with those living in the occupied West Bank and Gaza.
Although they have full and equal rights, Israeli Arabs often complain of being marginalised compared to Jewish Israelis.
Last month, Prime Minister Naftali Bennett's governing coalition, which includes the Arab Raam party, approved plans to spend $9.7bn (£7.1bn) "to reduce gaps in Arab society" over the next five years.