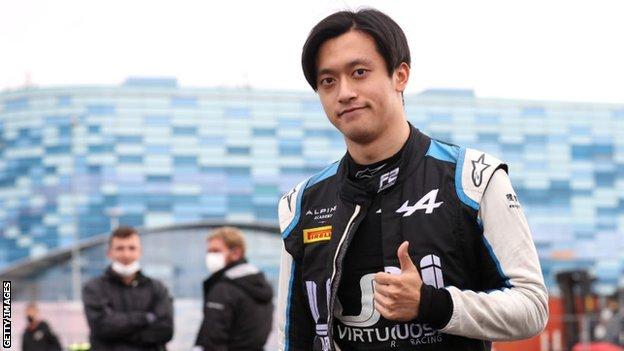 Guanyu Zhou has become Formula 1's first Chinese driver after signing to race for Alfa Romeo in 2022.
Alfa Romeo described the Formula 2 frontrunner as a "trailblazer who will write a pivotal page in his country's motorsport history". Zhou, 22, will partner Valtteri Bottas, signed from Mercedes after veteran Kimi Raikkonen decided to retire this year.
He replaces Antonio Giovinazzi, who has raced for Alfa since 2019 but now has no place on the F1 grid next year.
Zhou, who is second in the F2 championship with three wins this season and two rounds still to go next month, said: "I dreamt from a young age of climbing as high as I can in a sport that I am passionate about and now the dream has come true.
"I feel well prepared for the immense challenge of Formula 1, the pinnacle of my sport, alongside a proven, world-class talent in Valtteri Bottas." The move means all F1 teams have confirmed driver line-ups for 2022.
Zhou was part of the Ferrari driver academy from 2014-18, and moved to join Renault's young driver stable in 2019. He has been test driver for the French company's F1 team for the past two years. He will take with him to Alfa Romeo a sizeable financial package said to be worth many millions of pounds.
Team principal Frederic Vasseur admitted in an exclusive interview with BBC Sport that this was a factor in signing Zhou, saying: "The financial side can't be hidden." But he said that Zhou's talent had also been a key consideration.
Vasseur pointed to his F2 victories in Bahrain and Silverstone this year as evidence that he "has the ability" to compete at the highest level. "I don't know if in the end he will be a champion or not in F2," Vasseur said. "But this won't change the potential that he is a frontrunner against some other very experienced guys. "He also has the advantage that he was able to do some test days this season in F1 so he is not with zero mileage."
Vasseur, who previously ran the successful ART team in the junior categories, said he had been watching Zhou's progress for some years. "For China, it makes no sense to bring someone if the guy is nowhere [on performance]. They want to be successful," Vasseur said. "When he was at the beginning of the story in F3, we said: 'Perhaps this one is a potential [F1 driver].' And then he won some races in F3 Euroseries before moving to F2, and he did well.
"The most important thing for me is that he is a clever guy because he is always improving from year to year, always doing a better job and putting everything together." Vasseur said the extra income Zhou brings to Alfa Romeo would mean that the team would be able to operate at F1's cost cap next season – their budget is "massively" under the $145m (£114m) figure this year, he said.
"In the end, our sponsors also want to be happy and develop their commitment to the future, and the financial side can't be hidden," Vasseur said. "The first Chinese driver in F1 – it's mega news for us, for the company, for our sponsors and also for F1 in general.
"A team has to become sustainable at one stage. It is not just about the Chinese sponsors, it is about the exposure we will give to our current partners. "F1 today is a bit tough. If you are not in the top two plus Ferrari, the exposure is very low and this is probably the best way we will have to move up the classification of exposure."