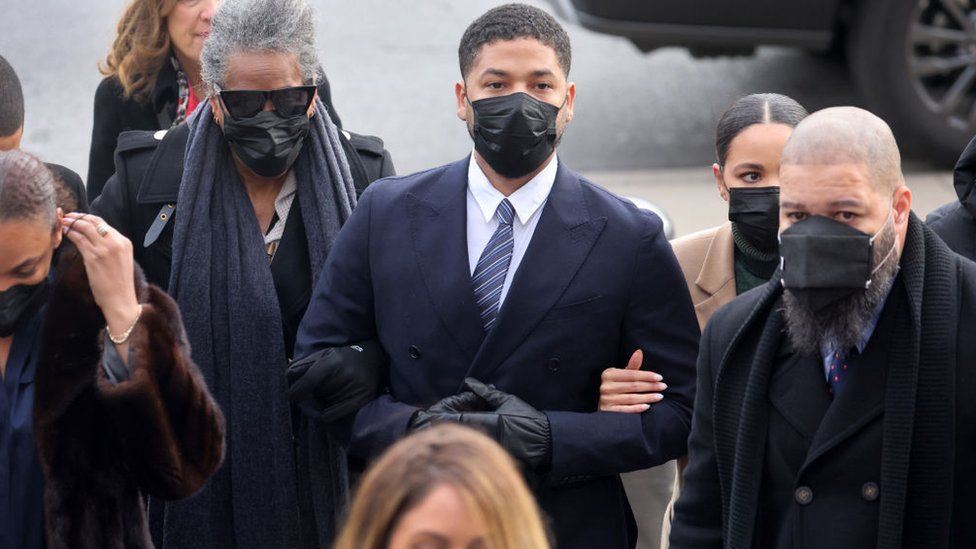 Jussie Smollett hatched a "secret plan" to concoct a hoax hate crime against himself, a court has heard on the opening day of the US TV actor's trial.
Mr Smollett, 39, told police in January 2019 that he was attacked by two men who shouted pro-Trump slogans and tied a noose around his neck. But his defence lawyers told the trial their client was "a real victim". Mr Smollett has denied wrongdoing.
Fifteen jurors were chosen earlier on Monday to hear the case.
Authorities allege that Mr Smollett paid two Nigerian-born brothers $3,500 (£2,630) to carry out the attack to promote his career because he was "dissatisfied with his salary" on the TV show Empire, which is about a hip hop dynasty.
Mr Smollett has claimed the payment was for one of the brothers to work as a personal trainer. The actor – who was written out of Empire amid the fall-out from the alleged hate crime hoax – was indicted by a special prosecutor in Illinois last year on six counts of lying to police.
During opening arguments on Monday, special prosecutor Dan Webb argued that the actor had "developed a secret plan that would make it appear that there was actually a hate crime that actually occurred against him by supporters of Donald Trump".
He said he conducted a "dress rehearsal" with the two brothers, and directed them to shout racist and homophobic slurs at him, the Chicago Tribune reported. "He told them to use a rope to make it look like a hate crime," Mr Webb told the court. The two brothers accused of carrying out the attack – Abimbola and Olabinjo Osundairo – are both expected to take the witness stand. Both men had worked as extras on Empire.
Mr Smollett's defence lawyer, Nenye Uche, denied the prosecutor's arguments, saying that his client "is a real victim" of a "real crime", according to AP News. In court, Mr Smollett's lawyer argued that the brothers attacked the actor because they did not like him. He also suggested that a third attacker was involved. Mr Smollett arrived in court flanked by supporters and wearing a black face mask.
Previous disorderly conduct charges against him had been dropped following an emergency court appearance in March 2019, prompting Chicago police and the city's mayor to accuse courts of letting Mr Smollett "off scot-free".
Mr Webb was later assigned to investigate how the case was handled. He announced that his office had obtained "sufficient factual evidence" to argue that the case should not have been dropped.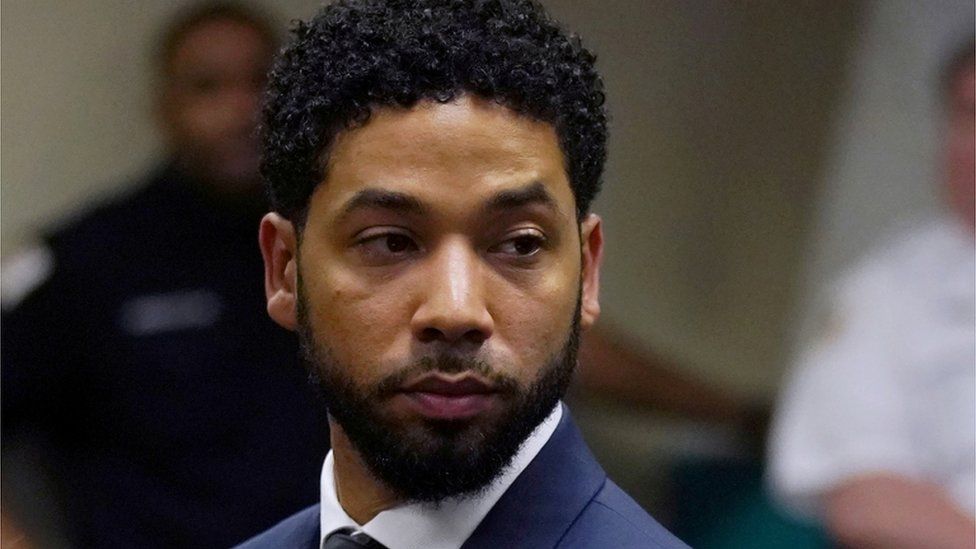 In a statement before the trial began, Mr Webb said that prosecuting the case was "in the interest of justice", partly due to the "extensive nature of Mr Smollett's false police reports" and the resources expended by Chicago police to investigate.
If convicted, Mr Smollett faces a prison sentence of up to three years. Given Mr Smollett's lack of previous convictions, however, legal experts have said a lighter sentence or probation is more likely. It remains unclear if Mr Smollett will testify during the trial, which is expected to last a week.
Ever since authorities cast doubt on his claims, Mr Smollett has repeatedly maintained his innocence. In an Instagram Live interview with US author Marc Lamont Hill last year, Mr Smollett said that the last two years had been "beyond frustrating".
"They won't let this go…there is an example being made," he said. "The sad part is it's an example being made of someone that didn't do what they're being accused of."
US Vice-President Kamala Harris had called the purported hate crime at the time "an attempted modern day lynching".