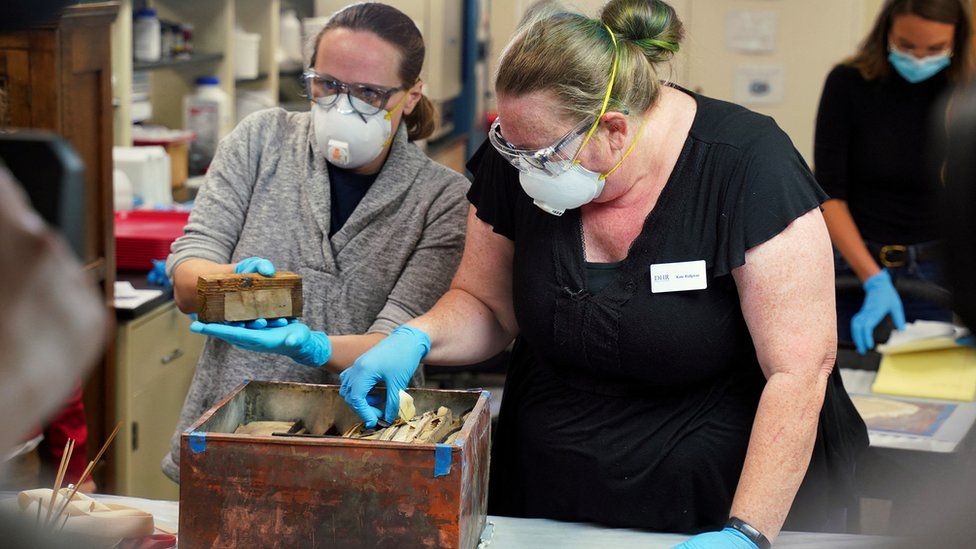 A conservation team in the US state of Virginia has opened a box containing Confederate war memorabilia believed to be more than 130 years old.
It contained newspapers, books and ammunition dated to the US Civil War.
Workers discovered the container in the state capital of Richmond while finishing the removal of a statue of the Confederate general Robert E Lee.
The memorial was removed after protests against it following the murder of George Floyd in Minneapolis last year.
Records held by the Library of Virginia say that the capsule was buried in 1877 and that dozens of local residents contributed around 60 objects to the container.
The lead conservator for the Virginia Department of Historic Resources, Kate Ridgway, said the contents and design of the box appeared to match the historical records.
She added that while the contents were damp, they were in better condition than expected.
"We thought everything would be soup and it's not soup, so that's great," Ms Ridway told reporters.
The capsule contained a host of civil war era artefacts, including a Confederate flag said to have been made from the tree that grew over the famed separatist General Stonewall Jackson's original grave, Miniè balls – a type of bullet used in the Civil War – and a map of the city of Richmond.
Some historical records had led to some speculation that the capsule might contain a rare photo of the deceased President Abraham Lincoln.
While conservators did find a printed image from an 1865 issue of Harper's Weekly that Ms Ridgway said seemed to show a figure grieving over Lincoln's grave, it did not appear to be the much-anticipated photo.
A smaller time capsule was found at the site earlier this month and turned out to be an unofficial memorial placed by the men who built parts of the statue.
Virginia Governor Ralph Northam ordered the statue taken down in September in the wake of protests that gripped the US following the murder of George Floyd.
Lee is a controversial figure in the US. While some celebrate his memorials as symbols of southern pride, many others deride them as daily reminders of the America's history of racism and oppression.