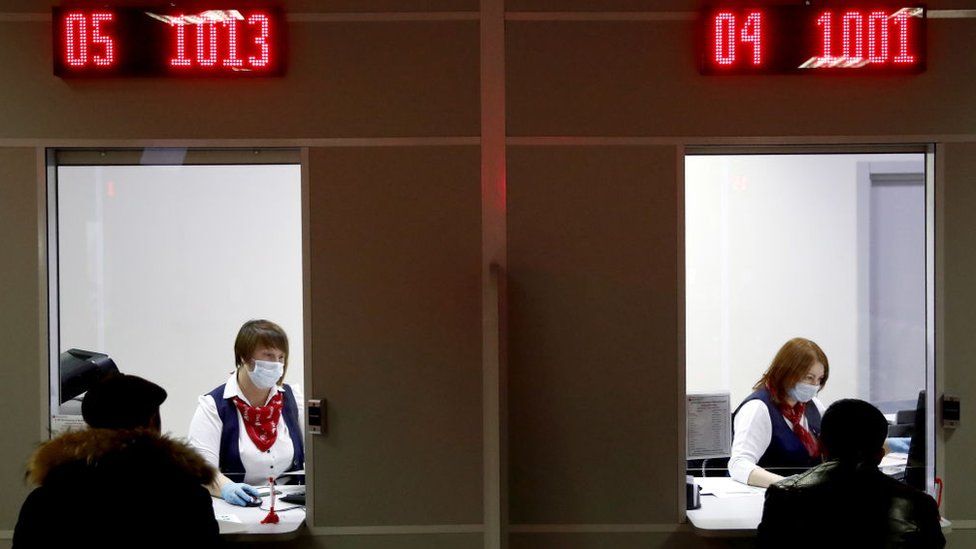 A new law has come into force in Russia requiring foreigners and long-term visitors to be fingerprinted and have regular mandatory medical check-ups.
Anyone staying for over 90 days will be checked for sexually transmitted diseases, tuberculosis and drug use.
Several business groups, including the German-Russian chamber of commerce abroad, have objected to the law.
Russia's health ministry has denied reports that foreigners will have to repeat the checks every three months.
US ambassador Jason Rebholz said earlier this month that the law was "xenophobic" and made it more difficult for foreigners to live in Russia.
Mika Beuster of the German Journalists Association said the health of foreign journalists had nothing to do with the Russian government.
Under the law, signed during the summer by President Vladimir Putin, foreigners staying for over three months have to be fingerprinted with immediate notice. But from 1 March they must also be checked for HIV and Aids, tuberculosis, leprosy and syphilis, as well as the "presence or absence" of use of narcotic or psychotropic drugs and new potentially dangerous psychoactive substances.
Diplomats or members of international organisations and their families are exempt, as are children under six as well as Belarusian nationals.
Responding to reports that foreigners staying more than 90 days would be subjected to checks every three months, the health ministry in Moscow said it was preparing to make clarifications "given the concern that arose from interpreting the law".
Foreigners would not have to have repeat checks every three months, the ministry told Interfax news agency.
The German-Russian chamber of commerce abroad called for a softening of the law, which chairman Matthias Schepp told Russian media was "disappointing and outrageous". The foreign ministry in Berlin said it would raise the concerns with authorities in Moscow.
The law refers to Russia's sanitary and epidemiological security, but critics have suggested it could be more about discrimination than health.
Concerns have also been raised about the relatively poor state of Russia's health service as well as fears over lax data protection. The medical checks are expected to include blood tests, X-rays and even CT scans, and foreign workers will have to take the tests at the Sakharovo migration centre 80km (50 miles) outside Moscow.
Russia's hospitals continue to struggle in the face of high coronavirus infections, with 932 deaths recorded in the 24 hours up to Wednesday.