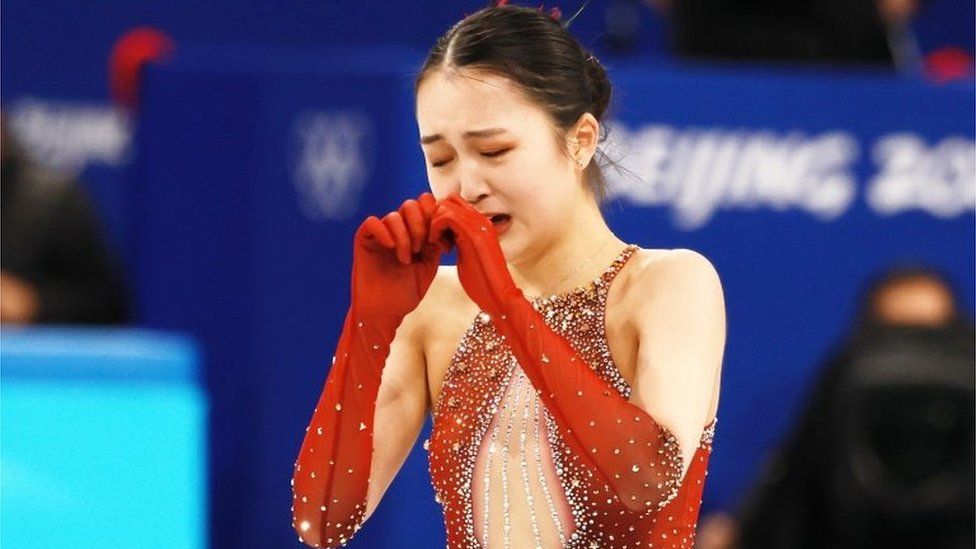 Chinese figure skater Zhu Yi has faced increasing criticism on Chinese social media, after falling several times during her Olympic team event skates.
Her debut on Sunday saw her fall once, pushing Team China out of the medals. A second performance on Monday, where she fell twice, earned her more criticism.
Her performance was called shameful and embarrassing by some, with personal attacks made on her background and her poor grasp of Mandarin. The criticism also appeared to be linked to discontent that the US-born and raised skater was allegedly chosen for the team event over Chinese-born skaters.
Many questioned why the 19-year-old had been chosen and made groundless claims that Ms Zhu had been favoured because her father is a prominent scientist. The hashtag #ZhuYiFellDown also reportedly trended on Weibo, before it was later taken down. However, searches for her name remain visible.
The vicious level of attack led to Weibo deleting over 300 posts and suspending accounts.
Zhu, who gave up her US citizenship to join Team China in 2018, had appeared visibly tense on the ice even before she fell on an early jump, crashing into the wall. After her performance on Sunday, she said she felt upset and embarrassed.
"I guess I felt a lot of pressure because I know everybody in China was pretty surprised with the selection for ladies' singles, and I just really wanted to show them what I was able to do, but unfortunately I didn't."
On Monday the criticism erupted again after Zhu, looking for redemption, fell on consecutive jumps and struggled through the rest of the routine. Holding back tears on the ice, she sobbed openly after finishing.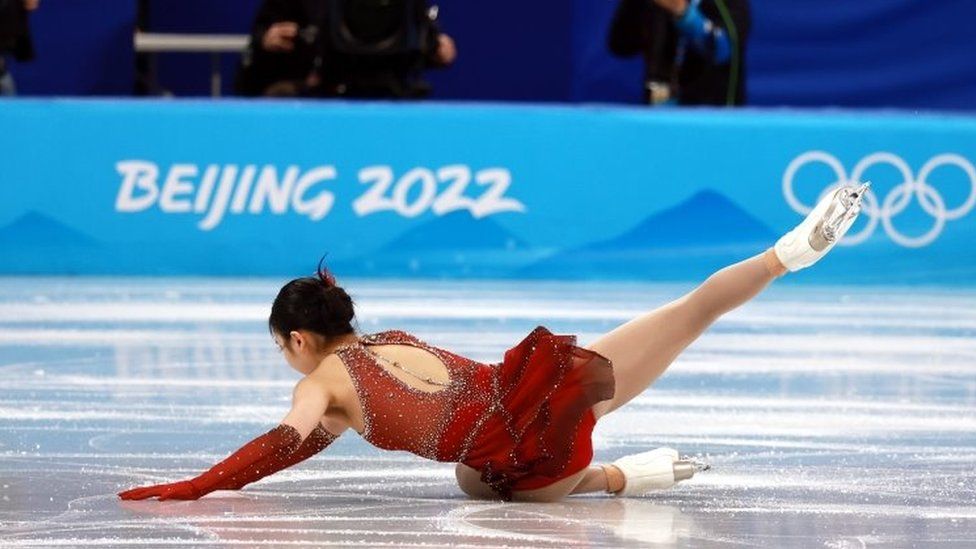 While her teammates on the sidelines welcomed her back warmly, online, the reception was largely negative. "She has no strength and it seems like she has no passion and enthusiasm on the stage," one social media user wrote. Others ridiculed her distress. "I hate that she's crying. Can crying solve anything?" one wrote.
But many have also condemned the backlash, defending and expressing sympathy for the young athlete.
"To vent emotions on this young athlete, using social media to throw rocks down a well when she makes mistakes – that's cyberbullying and no matter what it's going too far," said Hu Zijin, a well known former editor-in-chief of the nationalist Global Times newspaper. His post was widely shared.
Team China athletes often face great scrutiny from the Chinese public and immense pressure to win medals for national glory. Zhu was one of about a dozen athletes recruited by China for its Winter Games medal campaign. Still, others have drawn comparisons of the treatment of Zhu to Eileen Gu, another American-born athlete who chose to compete for China.
Gu is a widely adored in China and even given the nickname of China's "Snow Princess". She has been praised for not only her athletic ability but also her Mandarin skills and embrace of Chinese culture.