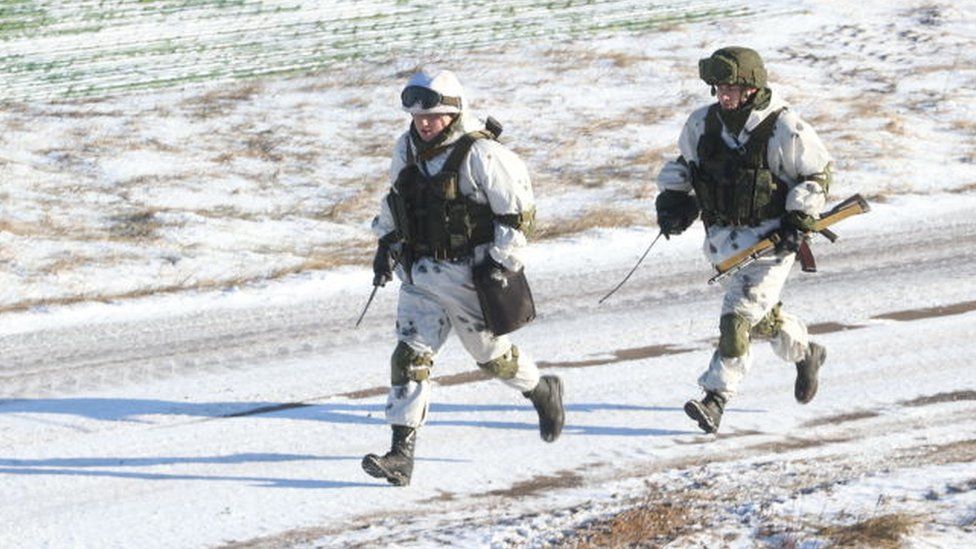 Russia says it is pulling back some of its troops from near Ukraine after a build-up prompted fears of an invasion.
The defence ministry said that large-scale drills continued but that some units were returning to their bases.
It did not say how many are leaving and it is not yet clear if it will de-escalate tensions.
More than 100,000 Russian troops have massed at Ukraine's border. Russia has always denied it is planning an attack.
A defence ministry statement, carried on Russian media, said it was withdrawing some of the troops conducting exercises in military districts bordering Ukraine.
"A number of combat training exercises, including drills, have been conducted as planned," Defence Ministry spokesman Igor Konashenkov said.
Some exercises are continuing, such as a large joint Russia-Belarus drill, due to end on 20 February.
Whether the Russian move will be enough to calm Western fears is not yet known. The US had warned a Russian invasion could happen at any time.
Russia has been seeking guarantees that Ukraine will not be allowed to join Nato, something the US and its allies have rejected.
Following the Russian announcement, a British government source said it was waiting to see the scale of the withdrawal, saying it would have to make a difference to the ability to invade to be meaningful.
But a Russian foreign ministry spokeswoman, Maria Zakharova, said the day "will go into history as the day western war propaganda failed. They have been disgraced and destroyed without a single shot being fired."
Diplomatic efforts aimed at warding off a potential crisis continue on Tuesday, with Germany's Chancellor Olaf Scholz due to meet Russia's President Vladimir Putin.
He is likely to repeat warning that Russia faces tough sanctions if it invades Ukraine.
Mr Scholz has faced criticism for his response to the tensions. He is not expected to scrap the Nord Stream 2 gas pipeline, which will bring Russian gas to Western Europe, despite US President Joe Biden saying the scheme would be halted if Russia invades.