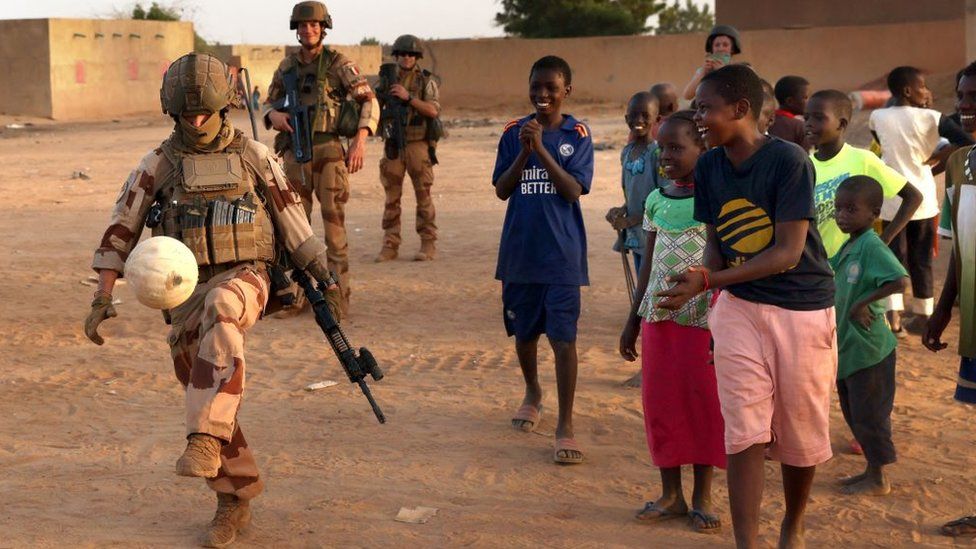 France and its allies in a European force will withdraw their troops from Mali after almost a decade, President Emmanuel Macron has announced.
The troops have been involved in the fight against Islamist militants in the country since 2013.
Mr Macron said the decision to leave followed a breakdown in diplomatic relations, amid growing hostility from Mali's governing military junta. The forces will be re-deployed elsewhere in Africa's Sahel region.
"We cannot remain militarily engaged alongside de-facto authorities whose strategy and hidden aims we do not share," Mr Macron told a news conference in Paris on Thursday.
He denied that the mission had been a failure and insisted that France remained committed to combating Islamist insurgencies in the region. He added that Niger had agreed to host some of the withdrawing forces. "France has played a unifying role in this international mobilization in favour of the Sahel," he said. "We will continue to ensure this unifying role."
The planned withdrawal, which is expected to happen over a four- to six-month period, was announced following meeting of European and African leaders at the Élysée Palace on Wednesday night.
In a statement released on Thursday morning, countries involved in the French-led Takuba Task Force said they had agreed to set out plans on how to remain actively involved in the region, most notably in Niger and the Gulf of Guinea countries, by June. Colonel Souleymane Dembélé, a spokesman for the ruling junta, shrugged off France's announcement, telling reporters that while European forces were in the country "terrorism engulfed the entire Malian territory".
Almost 5,000 French troops are deployed in the Sahel region to combat Islamist insurgencies as part of Operation Barkhane, with around 2,400 of those located at three bases in northern Mali. Mr Macron warned on Thursday that the group had "essentially come to secure their economic interests and the junta itself". The withdrawal of French and Western forces from Mali escalates concerns that a security vacuum in the country could further destabilize the region.
The retreat follows a breakdown in diplomatic relations and tense exchanges as public patience wanes after nearly a decade of counterinsurgency operations against al-Qaeda and Islamic State group militants. Mali's controversial deployment of Russian mercenaries has worsened relations and fails to guarantee that the looming security gap – amid rising militant attacks – will be filled. The planned co-ordinated withdrawal by France and the West may seek to prevent the kind of chaotic retreat seen in Afghanistan.
Incidentally, the withdrawal of Western forces – a long-standing demand by Mali's al-Qaeda militants – could create room for negotiations out of the insurgency. However, Mali's uncertain security future is worsened by political and economic isolation after international sanctions.
The withdrawal will have security implications for other countries in the Sahel region, who have been grappling with their own Islamist insurgencies. Ivory Coast President Alassane Ouattara warned that the move created "a vacuum" that would increase the burden on regional governments. "We will be obliged to increase our defence forces and increase the protection of our borders," Mr Ouattara said. But Senegalese President Macky Sall said that he understood why France had decided to pull its troops out of Mali, and that he was assured the fight against Islamist militants in the Sahel would continue.
Meanwhile, Ghana's President Nana Akufo-Addo said it was important that a United Nations peacekeeping force remained active in Mali despite the French departure. A UN spokesperson said there was "bound to be an impact" on its operations.
Doubt has also been cast over the future of an EU military training mission in Mali, after Germany's Defence Minister Christine Lambrecht told reporters she was "very sceptical" that Berlin would remain committed to the mission. "We have taken note of the French decision to leave Mali and end its mission there, which will of course have repercussions for its partners," she said.