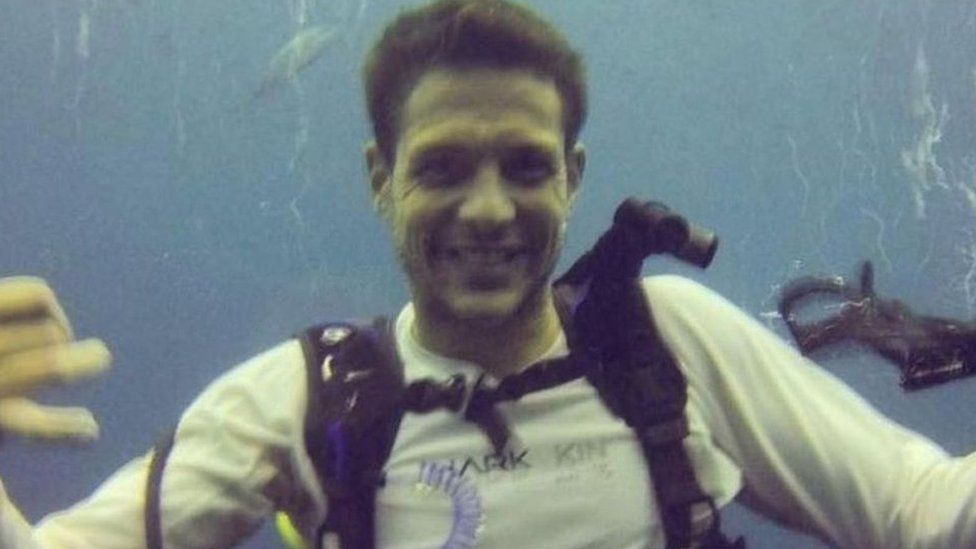 Sydney has reopened its beaches two days after a British swimmer died in the city's first fatal shark attack in 59 years. Simon Nellist, 35, was mauled by a shark in the waters off east Sydney on Wednesday.
Though beaches a now open, a popular charity swim scheduled for Sunday has been cancelled. State authorities have launched a hunt for the shark – believed to be a 3m-long (10ft) great white.
On Thursday, surf lifesavers on jet skis patrolled a 25km (15.5 mile) stretch of water from Bondi in the city's east to Cronulla in the south to find the shark.
Drum lines, which are used to bait sharks, had also been set up near the area in Little Bay where it struck, and helicopters and drones have been deployed to try and trace its movements.
Swimmers had been banned from entering the water after the attack.
The incident has shaken Sydney, as shark attacks are relatively uncommon. The city has long had nets and other deterrents in its waters to prevent them from happening.
Mr Nellist, who was a diving instructor was training for the Murray Rose Malabar Magic Ocean Swim when the attack occurred. The swim is an annual event held to raise money to provide swimming lessons for children with disabilities.
Organisers of the swim said the event would be cancelled.
"Out of respect for Simon and his family… we believe that cancelling the 2022 swim is appropriate," event director Robert Lloyd said in a statement.
A UK foreign office spokesperson said consular staff were in touch with New South Wales Police. "We are supporting the family of a British man and our thoughts are with them at this difficult time," the spokesperson said.