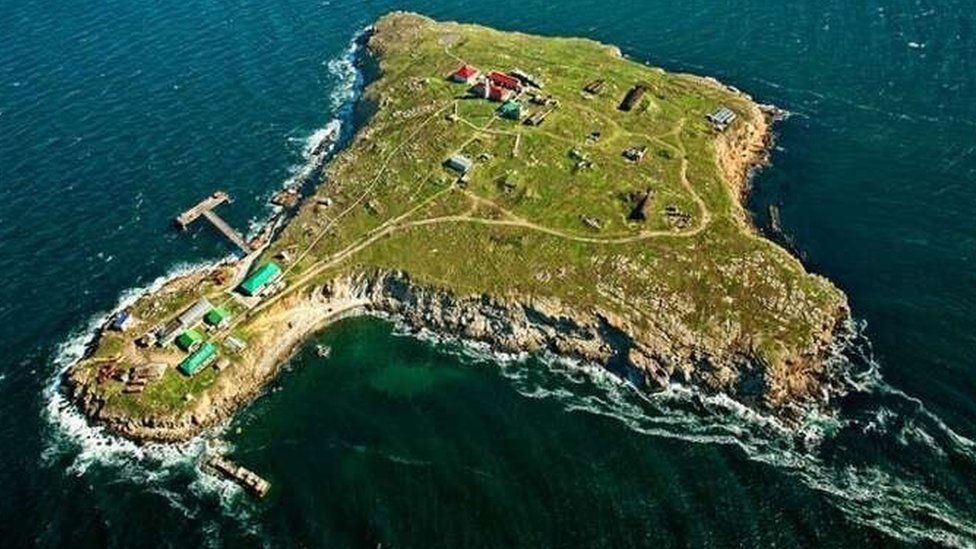 Ukraine's navy says the 13 soldiers believed to have been killed defending Zmiinyi (Snake) Island on the first day of the Russian invasion are alive.
The border guards were given posthumous honours by the president after they were heard in audio recordings telling a Russian warship to "go to hell".
Russia said at the time that the troops on the island surrendered.
On Monday, the Ukrainian Naval Forces confirmed in a Facebook post that "our brothers-in-arms are alive and well".
The border guards and marines on the island "twice bravely repulsed the attacks of the Russian occupiers" but were unable to continue fighting because they ran out of ammunition, it said.
The Russians "completely destroyed the island's infrastructure", including lighthouses, towers, antennae, and severed communications with the mainland, it added.
The Ukrainian navy also accused Russian forces of illegally detaining the crew of a civilian search and rescue ship that Ukraine sent to the island on a humanitarian mission after the attack, as well as two priests who were accompanying them.
"The illegal seizure of a non-combatant civilian vessel that did not carry out any military mission is a violation of the rules and customs of war and international humanitarian law," it warned.
A Russian defence ministry spokesman announced on Friday that 82 Ukrainian servicemen "laid down their weapons and voluntarily surrendered" on Zmiinyi Island, without mentioning whether the Russian warship carried out any strikes or inflicted casualties.
He said the captives were being "asked to sign an undertaking not to take part in hostilities" and would "be returned to their families in the near future".
Zmiinyi Island lies in the north-western Black Sea, about 48km (30 miles) from the Ukrainian coast and 300km west of Crimea, which was annexed by Russia in 2014.
It has a strategic importance that belies its size – only about 16 hectares (40 acres) – with the Atlantic Council think thank calling it "key to Ukraine's maritime territorial claims".