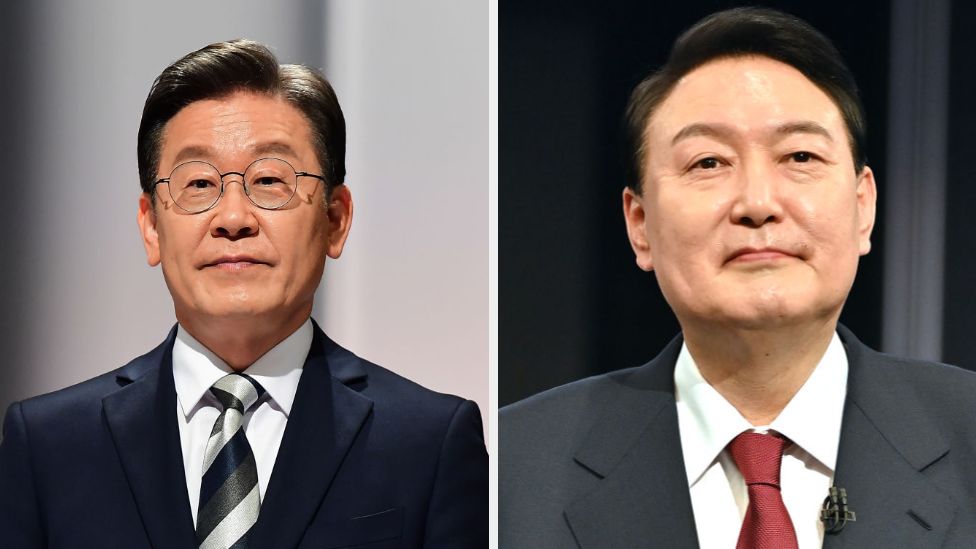 South Korea has chosen opposition candidate, Yoon Suk-yeol, as the country's next president following a close-run race.
The governing Democratic Party's Lee Jae-myung admitted defeat early Thursday morning, apologizing to supporters for his "shortcomings". Conservative Mr Yoon called his win a "victory of the great people".
Both candidates have been accused of running negative campaigns, and ended separated by less than 1% of the vote. Wednesday's election saw a high turn out, with more than three quarters of eligible voters casting their ballots. Top of voters' concerns were skyrocketing house prices, stagnant economic growth, and stubborn youth unemployment.
The White House has already sent its congratulations to Mr Yoon, saying US President Joe Biden is looking forward to further expanding the two countries ties. South Korea is about to usher in a new era as a conservative has won the battle to be president. But only just.
Yoon Suk-yeol's victory over his liberal rival Lee Jae-myung is far from decisive. He has won the presidency by less than one per cent – a sign of just how bitterly divided politics in the world's tenth largest economy has become. Mr Yoon only entered politics last year and rose to prominence for successfully prosecuting the former conservative president Park Geun-hye on bribery and corruption charges.
The political novice has been compared to the former United States president Donald Trump and has been prone to gaffes throughout the campaign. He had to walk back a comment that the authoritarian president Chun Doo-hwan, who was responsible for massacring protestors in 1980, was "good at politics".
He has pledged to abolish the Ministry of Gender Equality and has blamed the rise of feminism for the low birth rate in a country which has one of the worst records on women's rights in the developed world. He is more hawkish on foreign policy than the current liberal leader Moon Jae-in.
He has said he will aim to develop technology to carry out a pre-emptive strike on North Korea if Pyongyang looks to attack Seoul and he supports sanctions on Kim Jong-un's regime which will bring him more in line with the policies of South Korea's main ally, the United States.
He wants to be tougher on China and proposed that South Korea should co-operate more fully with the Quad security alliance between the US, Australia, India and Japan, an informal grouping created to counter Beijing's growing influence in the region. But he stopped short of saying Seoul should join the alliance.
His views on foreign policy are a decisive shift from his predecessor who favoured engagement with Pyongyang and largely avoided taking a stance that would inflame China, the country's largest trading partner.