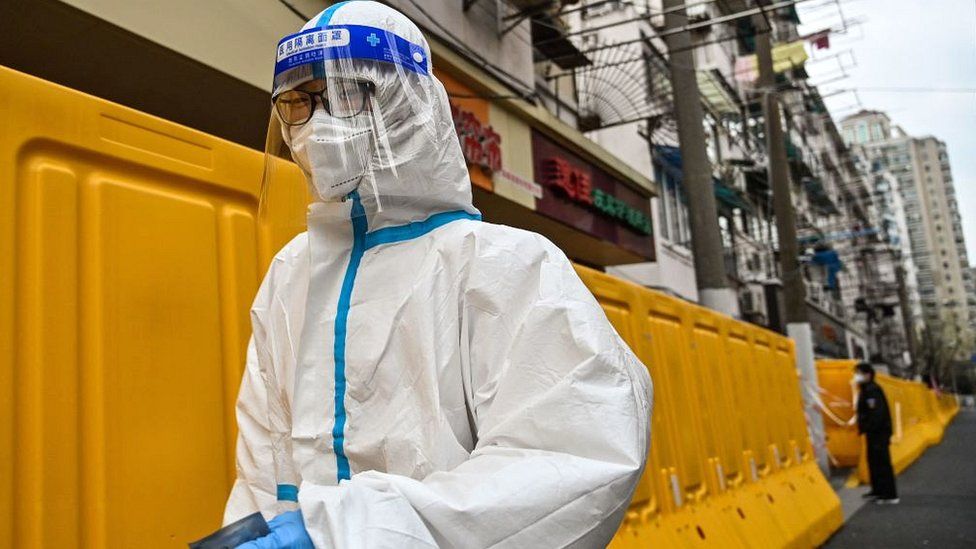 Businesses including Volkswagen (VW) have scaled back their operations in Shanghai, which is being locked down due to a surge in Covid-19 infections.
The German carmaker partially shuttered its factory in the Chinese city on Thursday, citing supply shortages. More than a dozen companies have suspended plans to list their shares in the major financial centre.
Economists are concerned that a slow down in Shanghai could affect growth in the world's second largest economy. On Thursday, official data showed that China's manufacturing and services sectors slowed this month at a faster pace than expected.
The National Bureau of Statistics said its purchasing managers' index (PMI) slipped from 50.2 in February to 49.5 in March. A reading below 50 represents contraction on the 100-point scale. PMI data is a summary of market conditions gathered through surveying senior executives in key industries about their expectations for a number of factors including new orders, production and employment.
Late on Wednesday, VW said it would partially close its factory in Shanghai due to "lack [of] parts from suppliers". The carmaker shut the factory earlier this month, when coronavirus infections were climbing in the city, before restarting production 48 hours later.
Earlier this month, a VW spokesperson said "What we have lost so far in production can be recovered, [for example] via additional shifts, once the situation eases." Its factory in the north eastern city of Changchun has been closed for several weeks.
Meanwhile, more than a dozen companies have delayed plans to sell shares on Shanghai's technology-focused STAR Market. The STAR Market has been described as China's answer to New York's Nasdaq trading platform.
The plans, which were made public in filings to the stock exchange, affect more than $9bn (£6.9bn) in fundraising, Reuters reported.
The lockdown of Shanghai is China's largest since the coronavirus outbreak began.
Until now, Chinese authorities had resisted locking down the city of almost 25 million people to avoid destabilizing the economy.
It has battled a new wave of infections for nearly a month, although case numbers are not high by some international standards.
Authorities have locked down the eastern side of Shanghai, which includes the city's financial centre, for Covid-19 testing.
The western side of Shanghai is scheduled to go into lockdown on Friday. This staggered approach means that half of the city will be able to remain open.