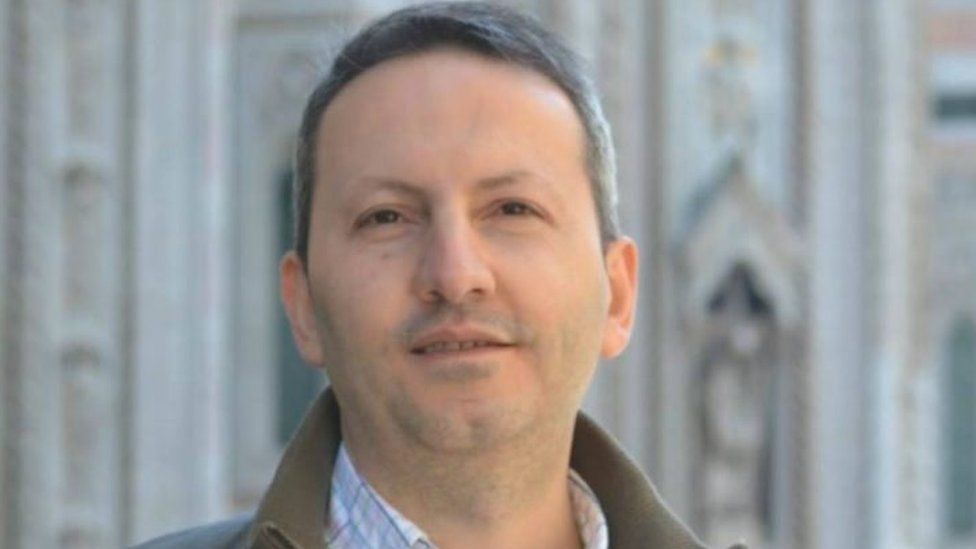 Sweden's foreign minister says a report that Iran plans to execute a Swedish-Iranian doctor convicted of espionage this month is "extremely worrying".
Sources told Iran's semi-official Isna news agency that Ahmadreza Djalali, 50, would be put to death by 21 May.
Foreign Minister Ann Linde tweeted that Sweden and the EU condemned the death penalty and demanded Djalali's release.
The emergency medicine specialist was arrested during a business trip in 2016 and accused of spying for Israel.
He was sentenced to death by a Revolutionary Court in Tehran the following year, after what human rights groups called a grossly unfair trial.
Djalali said he had been forced to "confess" while being subjected to torture and other ill-treatment, including threats to kill or otherwise harm his children, who live in Sweden with his wife.
He also alleged that he had been prosecuted solely because of his refusal to use his academic ties in European institutions to spy for Iran.
In November 2020, Djalali was informed by authorities at Tehran's Evin prison that his death sentence was about to be carried out. He spent five months in solitary confinement, awaiting execution, before being returned to a cell with other inmates.
On Wednesday, Isna reported that it had "heard from informed sources" that Djalali would be executed "by the end of the [Persian] month of Ordibehesht [21 May] at the latest".
The Iranian judiciary did not immediately comment on the story, which was also not picked up by state media.
The Norway-based campaign group Iran Human Rights accused Iranian officials of threatening to execute Djalali "in retaliation" for the war crimes trial of former Iranian judiciary official Hamad Nouri by a court in Sweden, which ended on Wednesday.
Swedish prosecutors ordered the arrest of Mr Nouri was at Stockholm's airport in 2019 under the international legal principle of universal jurisdiction.
He was later charged with international war crimes and human rights abuses over his alleged role in the mass execution of thousands of political prisoners in Iran in 1988.
Mr Nouri has denied the charges and insisted the allegations are a case of mistaken identity.
The verdict is due to be announced on 14 July. If convicted, he could face life imprisonment.
Iranian state TV reported that Foreign Minister Hossein Amir-Abdollahian had demanded Mr Nouri's immediate release in a telephone call with Ms Linde on Wednesday and that he had called the trial "illegal".