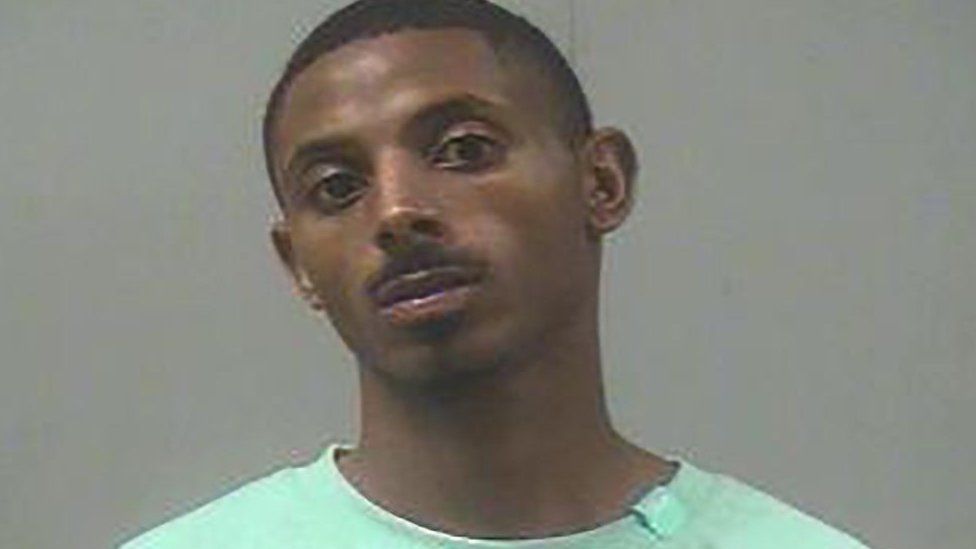 Police say a man accused of shooting three women at a salon in Dallas, Texas, harboured "delusions" about Asian people.
The FBI has opened a hate crime probe into Jeremy Theron Smith, 36, who was arrested on Monday for the attack.
Authorities say they believe the suspect may have been behind two other attacks on Asian businesses in the past month.
Anti-Asian violence has risen sharply in recent years in the US.
Dallas authorities say a man armed with a .22 rifle fired 13 shots inside the salon last Wednesday in the city's Koreatown neighbourhood.
Three women – the salon owner, a stylist and a customer, all of Korean descent – were treated for gunshot wounds and discharged from hospital. Four other people who were in the salon at the time were unscathed.
Dallas Police Chief Eddie Garcia told reporters on Tuesday that the suspect "has had panic attacks and delusions when he is around anyone of Asian descent" since he had a car accident involving an Asian male two years ago.
Chief Garcia said that Mr Smith has been charged with three counts of aggravated assault with a deadly weapon and is being held at the Dallas County jail.
Federal officials have opened a hate crime investigation. Chief Garcia said that state prosecutors may add hate crime charges at a later date.
"I can tell you that I know our community sees it as a hate crime," Chief Garcia said. "I see it as a hate crime, and so do our men and women."
A police affidavit obtained by the Dallas Morning News says that police learned of Mr Smith's alleged anti-Asian delusions after interviewing his girlfriend.
"He begins having delusions that the Asian mob is after him or attempting to harm him," she told detectives, adding that he had been "admitted to several mental health facilities" because of the delusions.
He had also been fired from his job for "verbally attacking" his Asian boss.
Police say they have managed to tie the suspect to two other recent shootings at Asian businesses. In all three attacks, a red minivan was seen outside the crime scene.
Mr Smith, who is black, has not been charged in those other attacks, which occurred last week and in early April.
Speaking at a town hall event with police, one of the victims wore a sling on her arm as she said it "would be good if bad people cannot get firearms", the Morning News reported.
The woman, who covered her face and did not reveal her name, said she worries about her future. "We're very nervous. We're very tired," she said in Korean.
The shooting came after a Chinese immigrant was arrested for a shooting inside a California church on Sunday, in what police say was an attack motivated by hatred towards people from Taiwan.
On Saturday, a white gunman allegedly shot and killed 10 people at a grocery store in a black neighbourhood in Buffalo, New York, in what police described as a white supremacist attack.
Last year a white gunman went on a shooting spree targeting Asian salons in Atlanta, Georgia, that left eight people dead.