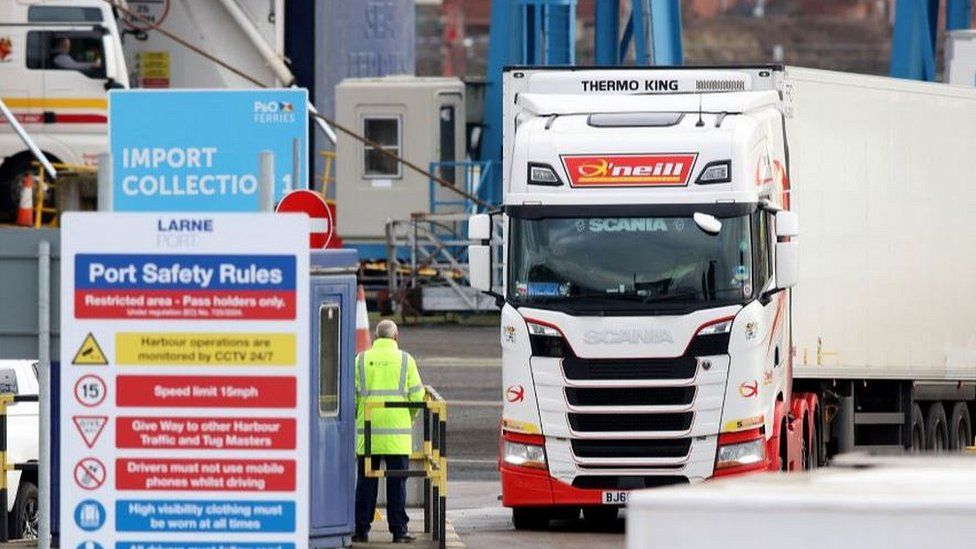 The EU has warned that it will deploy a whole battery of measures if the UK makes its own changes to a trade accord for Northern Ireland.
The Northern Ireland Protocol was agreed between the EU and UK in 2019 as part of the UK's deal to exit the EU.
The UK government now wants changes, to ease trade with Northern Ireland, where the deal has caused a political row. The EU Commission says it opposes "unilateral actions contradicting an international agreement".
Commission Vice-President Maros Sefcovic warned that if the UK government went ahead with a law changing the protocol, "the EU will need to respond with all measures at its disposal". "Our overarching objective is to find joint solutions within the framework of the Protocol," he stressed.
There is speculation the dispute could lead to a damaging EU-UK trade war.
Earlier, UK Foreign Secretary Liz Truss told the UK Parliament that a new law would make changes to the protocol, to ease trade arrangements with Northern Ireland. That action would in effect override parts of the UK's Brexit deal, but the process could take months.
The protocol basically left Northern Ireland in the EU's single market, meaning new checks on goods arriving from Britain – that is, England, Wales and Scotland.
Pro-Brexit Unionist politicians in Northern Ireland are refusing to form a power-sharing government with nationalist Sinn Fein in Belfast, saying first the protocol must be changed. A majority in Northern Ireland voted against Brexit in 2016.
Ms Truss described the political tensions in Northern Ireland as "very grave and serious".
Her proposed protocol changes would include: "green" and "red" lanes for goods travelling between Britain and Northern Ireland; removing "unnecessary bureaucracy" from goods destined to stay in the UK; removing regulatory barriers to goods made to UK standards being sold in Northern Ireland; allowing businesses to choose between meeting UK or EU standards, in a new dual regulatory regime.
The EU and UK are determined not to recreate checkpoints on the land border between Northern Ireland and the Irish Republic, which is in the EU.
Those controls were scrapped under the 1998 Good Friday peace deal, which ended decades of strife in Northern Ireland. Instead, the protocol created a de facto border in the Irish Sea, between Britain and Ireland.
Ms Truss said the UK would prefer a negotiated settlement with the EU on the protocol. But she also argued that the UK's planned changes to the protocol would not break international law – an argument the EU rejects.