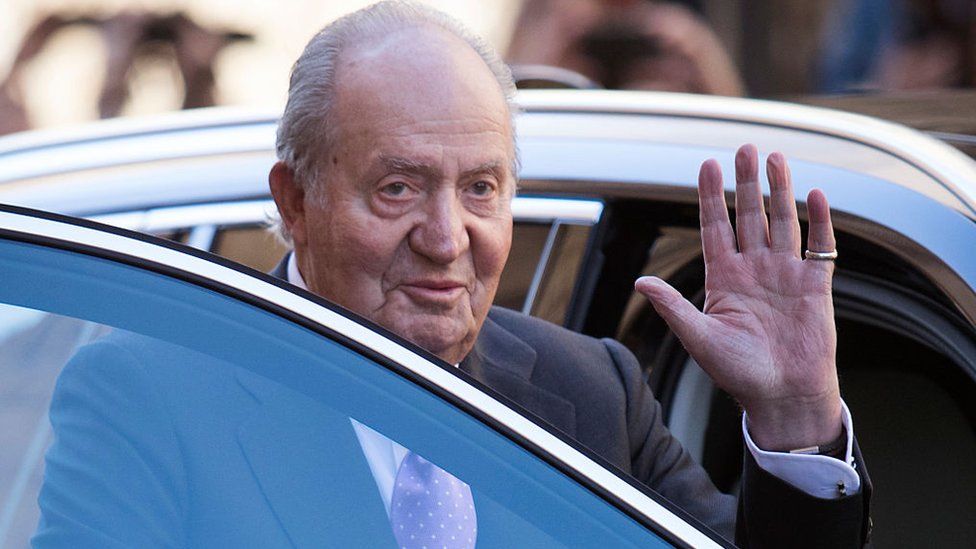 Spain's former King Juan Carlos will return to the country this week after nearly two years in exile in the United Arab Emirates (UAE), the Spanish royal palace has confirmed.
He left Spain after he was linked to an inquiry into alleged corruption. But three investigations against the 84-year-old were dropped in March, paving the way for him to return.
The ex-king will arrive in Spain on Thursday and before he travels back to the UAE on Monday.
He plans to spend time with his family in Sanxenxo, in north-west Spain, and will also see his son King Felipe VI in the capital Madrid.
The visit is part of his "desire to visit his family and friends regularly in Spain" in a "private" setting, the palace statement said.
The former king's return comes after he sent a letter to his son in March in which he told him he was looking to make a "timely" return to Spain after the country's attorney general's office shelved the investigations against him.
When the letter was issued in March, the Spanish government said Juan Carlos owed the Spanish public an explanation for his economic affairs.
Juan Carlos abdicated in 2014 after close to 40 years in power and handed power to his son Felipe.
His decision to give up the throne came after a corruption investigation involving his daughter's husband and a controversial elephant hunting trip the monarch took during Spain's financial crisis.
In June 2020, Spain's Supreme Court launched an investigation into Juan Carlos's alleged involvement in a high-speed rail contract in Saudi Arabia.
He denied any wrongdoing and insisted he was available if prosecutors needed to interview him. But in August of that year, he travelled to the UAE where he has been living since.
The forthcoming visit has been criticised by the far-left Podemos party, which is part of the coalition government.