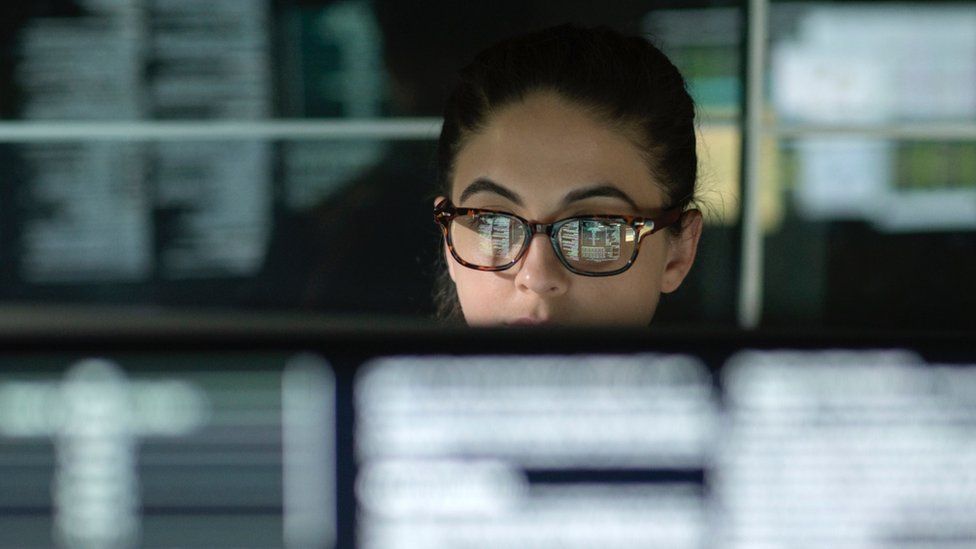 Fears about rising prices and slowing economies have spread to UK and European stock markets following sharp falls in the US and Asia.
The FTSE 100 index of leading companies sank 1.8% on Thursday while the main stock markets in France and Germany also saw declines.
On Wednesday, US shares recorded their biggest one-day drop since the early days of the Covid-19 pandemic in 2020. Markets were spooked by gloomy forecasts from major US retailers.
Countries are also grappling with steep rises in inflation – the UK's reached a 40-year high of 9% in April – and there are concerns that some economies are heading for a slowdown as interest rates are increased in an attempt to counter price rises.
The downbeat news from US retailers hit shares in UK companies reliant on consumer spending. The UK's biggest retailer, Tesco, fell 1.8%, while shares in consumer goods giant Unilever dropped nearly 1%.
However, the biggest faller on the UK market was Royal Mail, which sank more than 12% after reporting disappointing results and warning it was facing "significant headwinds" from rising costs.
The FTSE 100 closed 135 points lower at 7,302.7, while France's Cac-40 index and Germany's Dax dropped by 1.3% and 0.9% respectively.
In Asia, Japan's benchmark Nikkei index closed down 1.9%, while Hong Kong's Hang Seng dropped 2.5%.
That came after the S&P 500 index in the US, which tracks shares of a wide swathe of America's biggest companies, plunged more than 4% on Wednesday and the Dow Jones Industrial Average dropped 3.5%. The tech-heavy Nasdaq fell 4.7%. The falls added to weeks of declines on US financial markets.
The steep falls on US markets came after retail chain Target said unexpectedly high fuel and freight costs had cut into profits, which halved compared with a year ago.
It also said that as prices rise, shoppers are spending more on essentials and cutting back on discretionary items, such as television sets and clothing.
Target's comments followed a similarly downbeat update from rival Walmart earlier in the week. Target's update sent its shares plunging 25% – the biggest decline in more than three decades.
Official US government data recently showed retail sales rose a healthy 0.9% in April, but some analysts have warned the figures may be understating signs of slowdown, especially for lower-income families since they are not adjusted for inflation.
Earlier this year, Amazon reported a surprise drop in online sales in the first three months of the year.