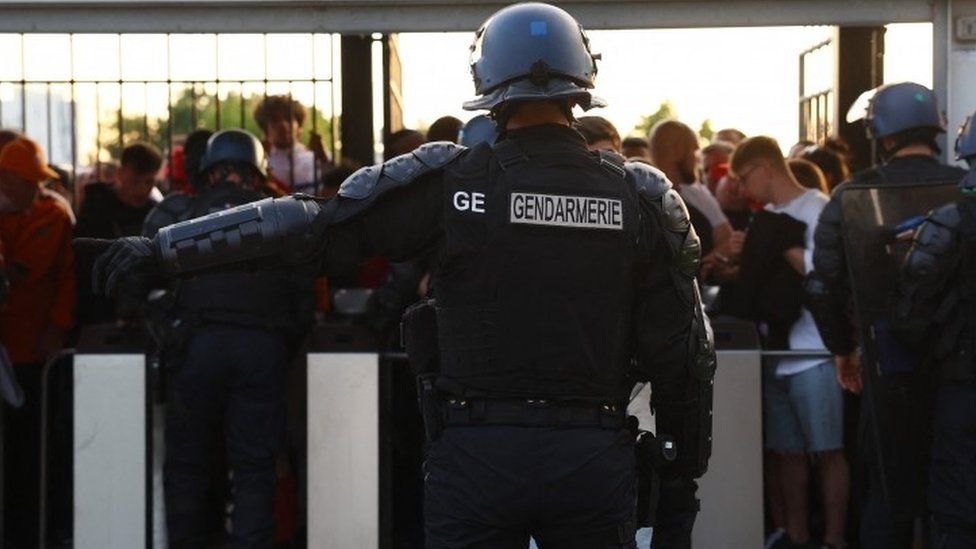 France's sports minister says Liverpool fans without valid tickets caused the initial crowd problems at Saturday's Champions League final in Paris.
Amelie Oudea-Castera blamed a "mass gathering" of supporters with "fake tickets" for the chaos at the stadium. But she said local youths trying to force their way in made things worse.
Liverpool fans criticised the French police response, and UK Culture Secretary Nadine Dorries described the scenes as "deeply concerning".
French police have been criticised for firing pepper spray and tear gas at some Liverpool fans as they waited to get into the stadium on Saturday evening.
The latest comments come ahead of a meeting on Monday morning with the French sports ministry, Uefa, the French Football Association, stadium officials and police on Monday to "draw lessons" from the event.
"What happened, first of all, was this mass gathering of the British supporters of the Liverpool club, without tickets, or with fake tickets," Ms Oudea-Castera told French radio RTL. But she said more people from the local area tried to force their way in through the doors of the Stade de France, where the match was held.
"A certain number of youths from the nearby area who were present tried to get in by mixing in with the crowd," the minister said. She also expressed regret that families and children were impacted by the use of tear gas.
Europe's football governing body, Uefa, initially blamed the "late arrival" of fans for the problems, which led to the start of the match being delayed by more than half an hour.
But Merseyside police, who are responsible for policing in Liverpool and were present in Paris, said the vast majority of Liverpool fans arrived early at the turnstiles and behaved in an "exemplary manner". Fans spoke of long queues building up hours before the match started.
Ms Oudea-Castera said Monday's meeting of officials was aimed at identifying what went wrong, to avoid a repeat of the scenes in the future. Paris will host the Olympic Games in 2024 and the Rugby World Cup in 2023.