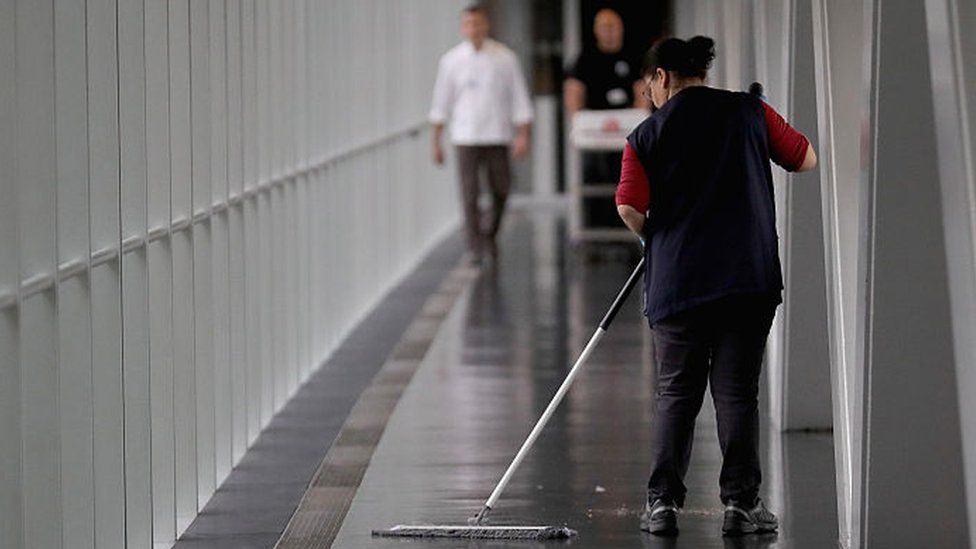 An agreement for EU member states to ensure that minimum wages provide a decent standard of living has been struck by negotiators from the member states and Parliament.
Six of the EU's 27 member states do not have a minimum wage and will not be required to introduce one. But under the deal the 21 that do would be required to follow common rules but not the same rates.
The deal first needs to be voted on before it becomes law. An estimated one in 10 workers across the EU earns the minimum wage, but the levels vary dramatically from country to country.
In Germany, the parliament has just backed a rise from the current rate of €9.82 (£8.40) an hour to €12 (£10.25) in October.
Luxembourg has by far the highest minimum wage of €13.05, followed by Ireland, the Netherlands, Germany and Belgium. Bulgaria has the lowest at €2.19, followed by Hungary and Romania.
"The new rules on minimum wages will protect the dignity of work and make sure that work pays," said European Commission President Ursula von der Leyen.
European Parliament negotiator Agnes Jongerius emerged from the talks in the early hours of Tuesday saying the deal meant that shop-workers, cleaners and postal workers would all quickly end up with a fairer wage.
Explaining the proposed EU directive, she said national minimum wages would have to enable workers to lead a decent life, taking into account the cost of living and the wider level of salaries. Twenty-two EU countries currently failed that test, she argued.
Under the proposals any government wishing to check whether their minimum wage is adequate could use a basket of goods or services, or set the level at 60% of gross median wage and 50% of gross average wage. In countries where fewer than 80% of workers are covered by collective bargaining, an action plan will be required to increase that.
The planned directive is unlikely to affect the six EU countries that have no minimum wage. Austria, Cyprus, Denmark, Finland, Italy and Sweden all rely instead on collective pay bargaining. Denmark has made clear it wants nothing to do with a minimum wage. Employment Minister Peter Hummelgaard said the government would work closely with Sweden and with social partners.
Swedish Labour Minister Eva Nordmark said her government would also not back the directive as pay under the Swedish model was best handled by unions and employers. But even if Sweden and Denmark vote against the deal, it is backed by a majority of countries and would get through the Council of member states. It also has to get through Parliament.