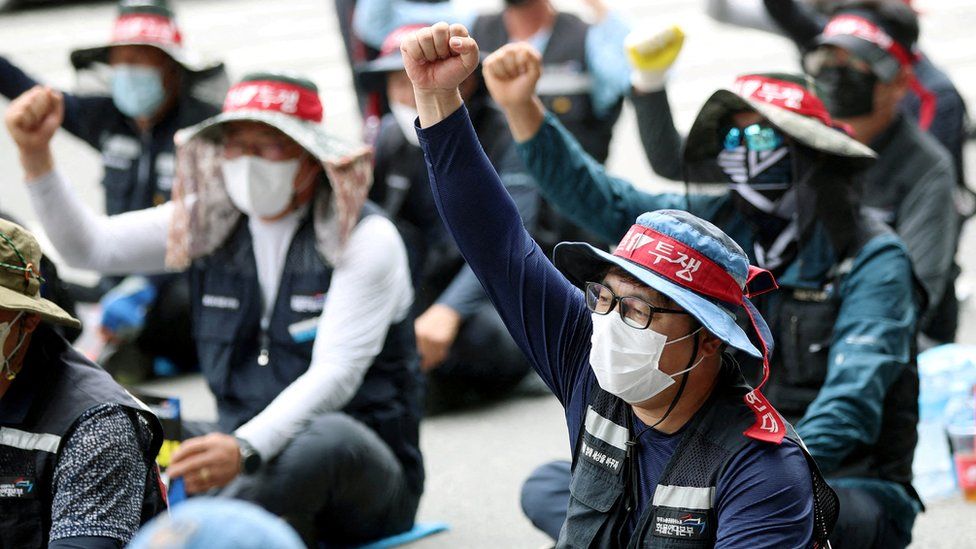 Major South Korean businesses say they are being hit hard as a strike by thousands of lorry drivers across the country is in its seventh day.
Car maker Hyundai and steel producer POSCO are among the firms that have been affected by the industrial action. It comes as the country's exports fell by almost 13% in the first 10 days of the month from a year earlier.
The truckers are demanding more pay and an extension to government subsidies as they face rising fuel costs.
The strike has raised concerns that it could worsen global supply chain disruptions, caused by the pandemic and the Ukraine war, and help to further push up prices around the world. South Korea is a major producer of goods from cars to electronics and computer chips.
On Monday, a spokesperson for South Korea's largest car maker Hyundai said it had "experienced partial production disruption" at its biggest manufacturing plant in the south eastern city of Ulsan. "Hyundai Motor is closely monitoring the situation, and we hope to normalize production soon to minimize impact on our customers," the spokesperson added.
The country's biggest steel maker POSCO also said it had suspended some production at its factories because it has run out of space to store finished products. The company said its current stocks have not been shipped because of the strike.
A spokesperson for POSCO said: "We are not yet certain how long this suspension will last."
The issues come as South Korean officials and the Cargo Truckers Solidarity union have so far failed to reach a deal to end the strike, which started on 7 June.
There are around 420,000 lorry drivers in South Korea, where they are regarded as self-employed workers.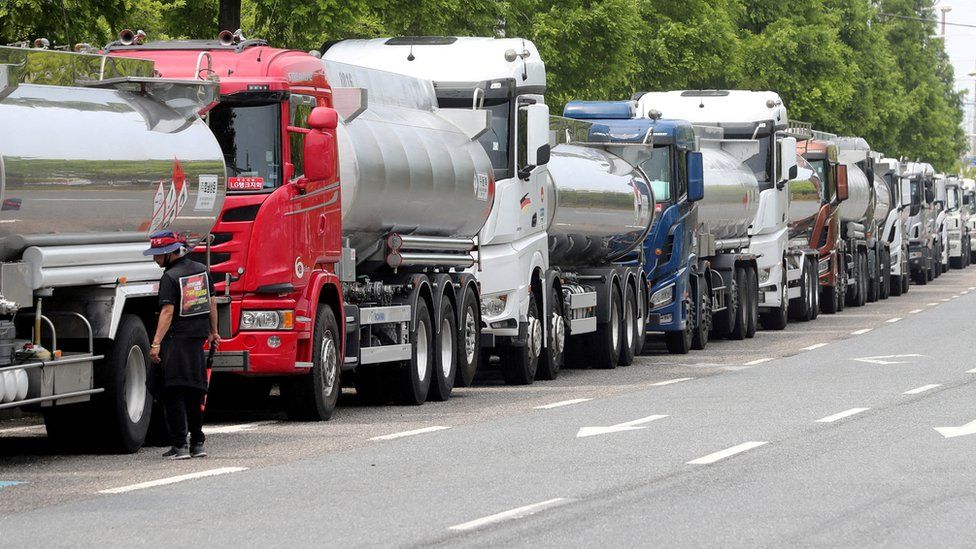 The striking truckers have called for pay rises and a pledge that a guarantee of minimum rates for freight will be kept in place. The system was introduced during the pandemic and is due to expire in December.
The Ministry of Land, Infrastructure and Transport said it met union representatives for more than eight hours on Saturday to discuss "ways to normalize logistics" but "no agreement was reached". "We plan to continue dialogue to resolve this situation as soon as possible," the ministry said.
Official data released on Monday showed that South Korean exports shrank by 12.7% in the first 10 days of this month from a year earlier. During the period exports of cars fell more than 35%, while wireless communication device exports dropped by over 27%.