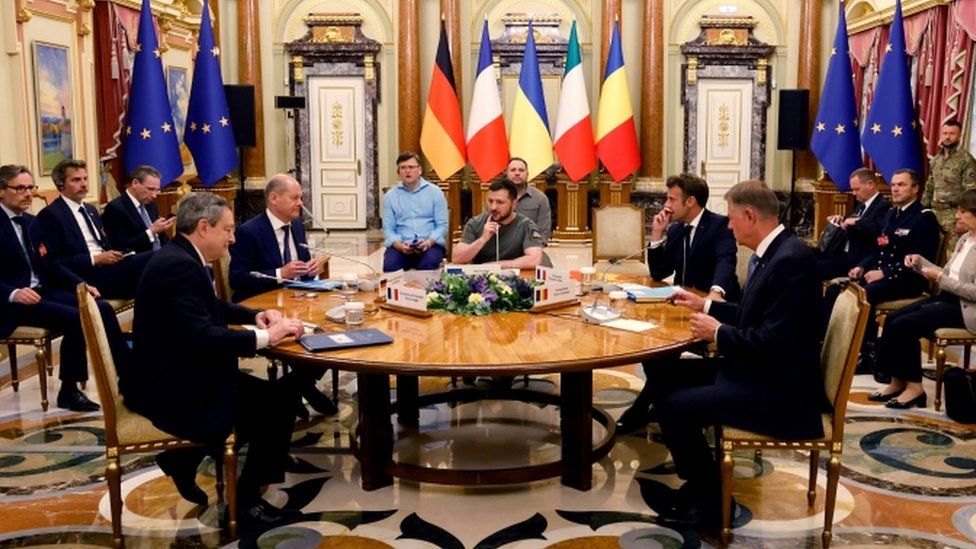 The leaders of France, Germany, Italy and Romania have backed Ukraine's bid to join the EU, saying it should be given "immediate" candidate status.
"Ukraine belongs to the European family," German Chancellor Olaf Scholz said at a joint briefing in Kyiv. But he added that Ukraine still had to meet the accession criteria in full.
Meanwhile, French President Emmanuel Macron stressed the 27-member EU would stand by Ukraine until its victory against Russia.
Ukrainian President Volodymyr Zelensky described Russia's continuing aggression as a war "against the united Europe", adding that the "most effective weapon" was unity.
And he again appealed for more heavy weapons to be sent urgently for Ukraine to be able to defend itself more effectively and liberate territories seized by Moscow since the start of the invasion on 24 February.
Earlier on Thursday, the four EU leaders visited the devastated town of Irpin near Kyiv, which for several weeks was occupied by Russia.
Ukraine accuses Russian soldiers of committing war crimes by killing hundreds of civilians in Irpin and nearby towns such as Bucha – a claim denied by Moscow.
The visit to Kyiv comes as Russian troops are continuing their assault on the key city of Severodonetsk in eastern Ukraine.
Capturing Severodonetsk – and its twin city of Lysychansk – has for weeks been a top military goal for Russia, as the Kremlin seeks to control all of the wider Luhansk region.
President Macron and Chancellor Scholz, together with Italian Prime Minister Mario Draghi and Romanian President Klaus Iohannis, visited Ukraine for the first time since the war began.
The trip came a day before the European Commission is due to make a recommendation on whether to give Ukraine an EU candidate status. All 27 EU leaders will then discuss the issue at a summit on 23 and 24 June.
Some of the bloc's members have been lukewarm about Ukraine's accession to the EU, and the words of support from France, Germany and Italy – the three EU heavyweights – could sway their position.
However, candidacy status will only be the next step on the road to the full membership, which may take years.
Before the Kyiv visit, Ukrainian officials repeatedly criticised France, Germany and Italy for being slow in delivering weapons and placing too much focus on appeasing Russian President Vladimir Putin.