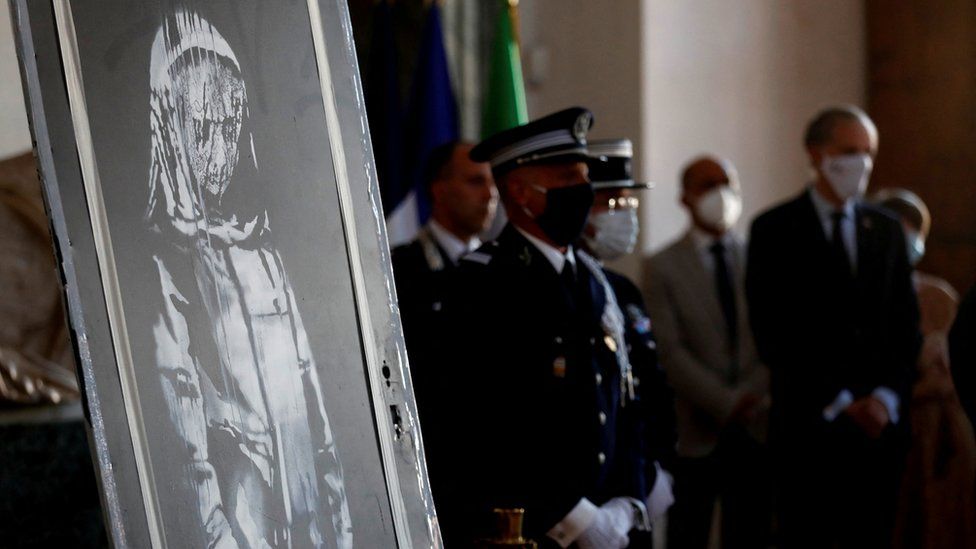 Three years after an artwork by graffiti artist Banksy was stolen from a door at the Bataclan music hall in Paris, eight people have been convicted of theft or handling stolen goods.
The mural "sad girl" was stencilled as a tribute to the 90 people murdered in a 2015 terror attack on the venue.
A hooded gang removed it from an emergency door with angle grinders in January 2019. It was found 18 months later in an attic at a rural farmhouse in Italy.
The mural was painted on a door that leads into an alley used as an escape route by many of the spectators who had been watching a concert by US band Eagles of Death Metal on the night of the 2015 attack.
The gang drove a white van with obscured licence plates into the alley, cut away the door and drove it away.
Some of the police who took part in the investigation had responded to the attack on the Bataclan on 13 November.
Across Paris, 14 men are on trial, accused of taking part in a night of militant Islamist attacks on Paris that night, including at the Bataclan. The trial is due to end next week.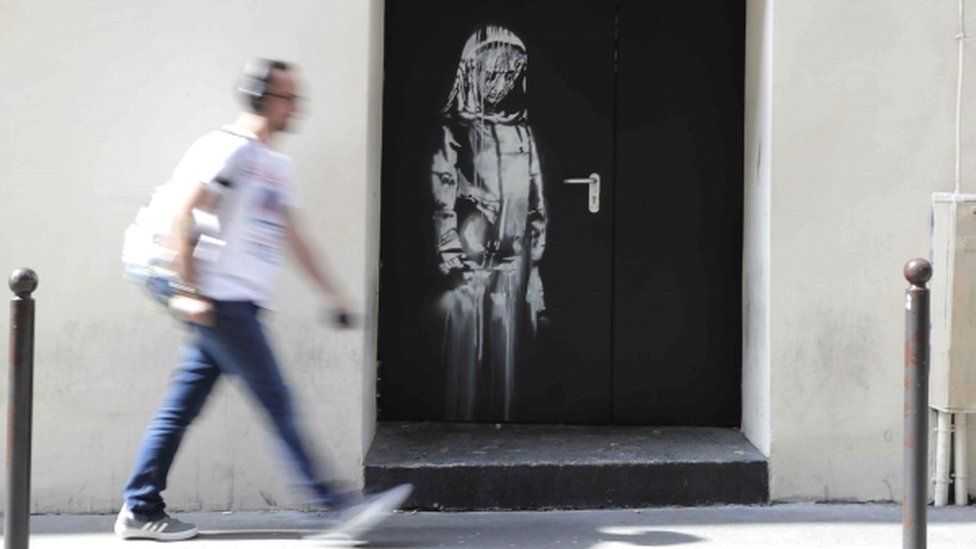 Seven French men and an Italian, aged 31 to 58, were given jail terms ranging from a few months to four years – although parts of the sentence will be served wearing electronic tags rather than in prison.
A trio in their thirties admitted to the theft. A fourth man man, described as a 41-year-old millionaire lottery-winner with a passion for street art, was convicted of helping them conceal the door in the south of France. The court rejected allegations that Mehdi Meftah was the mastermind behind the theft.
Another three men were found guilty of transporting the door and a 58-year-old hotel owner in Italy was given a six-month suspended sentence. The Banksy work was eventually moved from his hotel on the Adriatic coast to a farm 15km (nine miles) inland.
The crime provoked outrage, and Bataclan staff told the trial that the artwork had been a symbol of contemplation for Parisians and the rest of the world.
Banksy's works have always been much sought-after, and "sad girl" was one of a number attributed to him that appeared around Paris in June 2018.