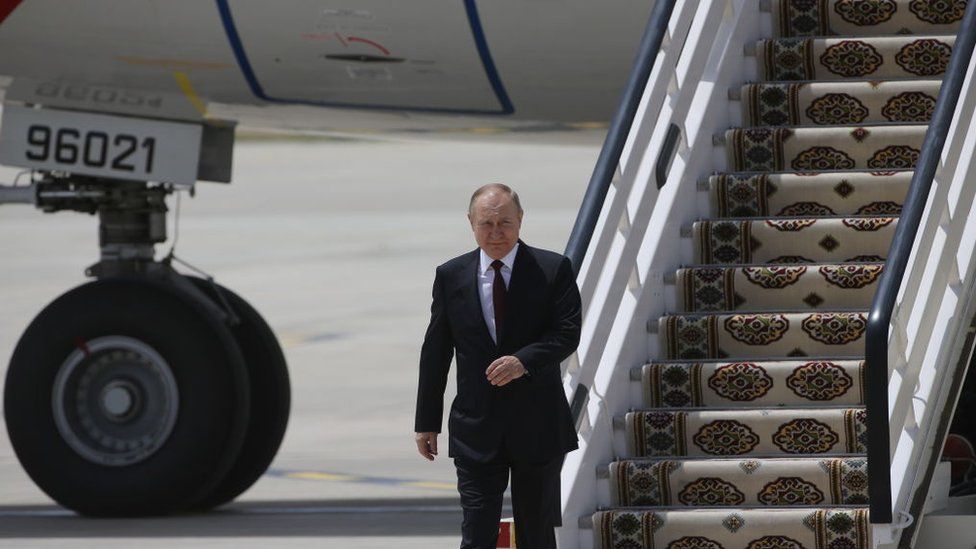 Russian President Vladimir Putin will visit Iran on Tuesday in just his second foreign trip since he launched the invasion of Ukraine in February.
Mr Putin will meet Iranian Supreme Leader Ayatollah Ali Khamenei and Turkish President Recep Tayyip Erdogan. Grain exports, Syria and Ukraine will be discussed in Tehran, a Turkish official said.
The Russian leader has limited his international visits to former Soviet states since war broke out in Ukraine. In June, Mr Putin made his first international trip since February when he visited Tajikistan and Turkmenistan, both former members of the USSR now led by authoritarian rulers and Russian allies.
Tuesday's visit will offer Mr Putin the opportunity to deepen ties with Iran, one of Moscow's few remaining international allies and a fellow target of Western economic sanctions. It follows allegations by US officials last week that Tehran was planning to supply Russia with hundreds of drone for its war in Ukraine.
"The contact with Khamenei is very important," Yuri Ushakov, Mr Putin's top foreign policy adviser, told a media briefing on Monday. "A trusting dialogue has developed between them on the most important issues on the bilateral and international agenda."
Turkey and Russia have backed opposing sides in the Syrian civil war and have been searching for ways to reduce the violence in recent months.
But the meeting comes amid Turkish threats to launch a fresh offensive in northern Syria against US-backed Kurdish militants, a move which both Iran and Russia oppose. The operation is part of Mr Erdogan's plans to create to create a 30km (20 mile) safe zone along Turkey's border with Syria.
Last week, the UN Security Council agreed to re-authourize cross- border deliveries of aid to rebel held Syria for six months after Russia had initially blocked a proposal for a one-year extension.
Ankara has refused to impose sanctions on Moscow since Mr Putin launched his invasion of Ukraine on 24 February, with Mr Erdogan's government seeking to play the role of mediator.
The meeting could offer an opportunity for the Turkish leader to conclude a tentative agreement struck between Russian and Ukrainian leaders to ensure the export of 22 million tonnes of desperately needed grains.
Last week, Turkey's defence minister said both sides had agreed on ways to ensure the safety of shipping routes for grain ships.