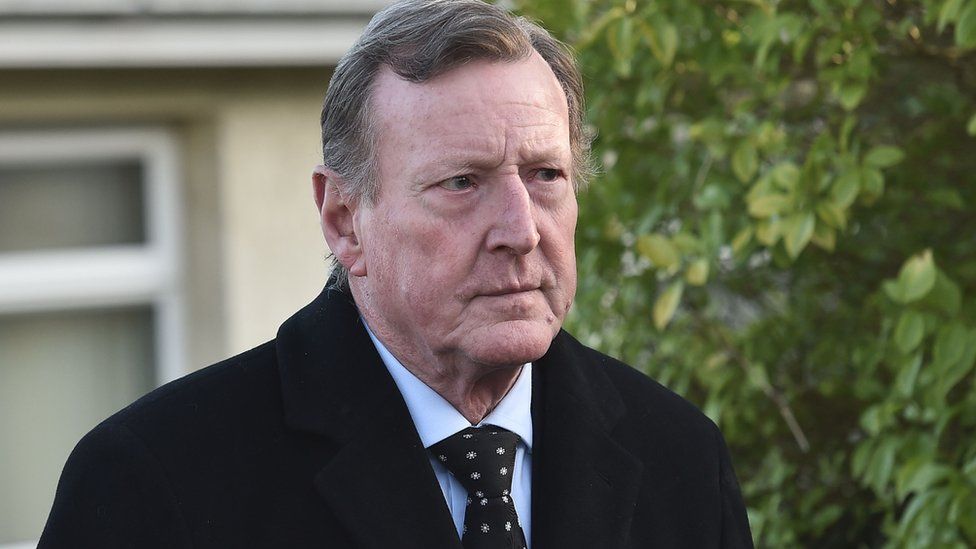 Lord Trimble, former first minister of Northern Ireland and Ulster Unionist Party leader, has died.
Lord Trimble, who was 77, led the UUP between 1995 and 2005, and was instrumental in the negotiation of the Good Friday Agreement- the peace deal which ended the worst of Northern Ireland's Troubles.
His efforts won him the Nobel Peace Prize along with SDLP leader John Hume. Since 2006, he sat in the House of Lords as Baron Trimble of Lisnagarvey.
He was the first person to serve in the role of first minister in the new Northern Ireland Executive established as part of the Good Friday Agreement.
A statement from the UUP said: "It is with great sadness that the family of Lord Trimble announce that he passed away peacefully earlier today following a short illness."
He is survived by his wife, Daphne and their four children.
Current UUP leader Doug Beattie described Lord Trimble as a "political giant".
"David Trimble was a man of courage and vision. He chose to grasp the opportunity for peace when it presented itself and sought to end the decades of violence that blighted his beloved Northern Ireland," Mr Beattie said.
"He will forever be associated with the leadership he demonstrated in the negotiations that led up to the 1998 Belfast Agreement.
"The bravery and courage he demonstrated whilst battling his recent illness was typical of the qualities he showed in his political career, at Stormont and at Westminster. 
Prime Minister Boris Johnson described Lord Trimble as "a giant of British and international politics".
"[He] will be long remembered for his intellect, personal bravery and fierce determination to change politics for the better," Mr Johnson added.
Taoiseach (Irish Prime Minister) Micheál Martin said Lord Trimble played "a crucial and courageous role in bringing peace to Northern Ireland".
SDLP leader Colum Eastwood described him as "one of the most consequential political leaders of the last century".
He added that without the former UUP leader's political bravery, the Good Friday Agreement would never have been signed.