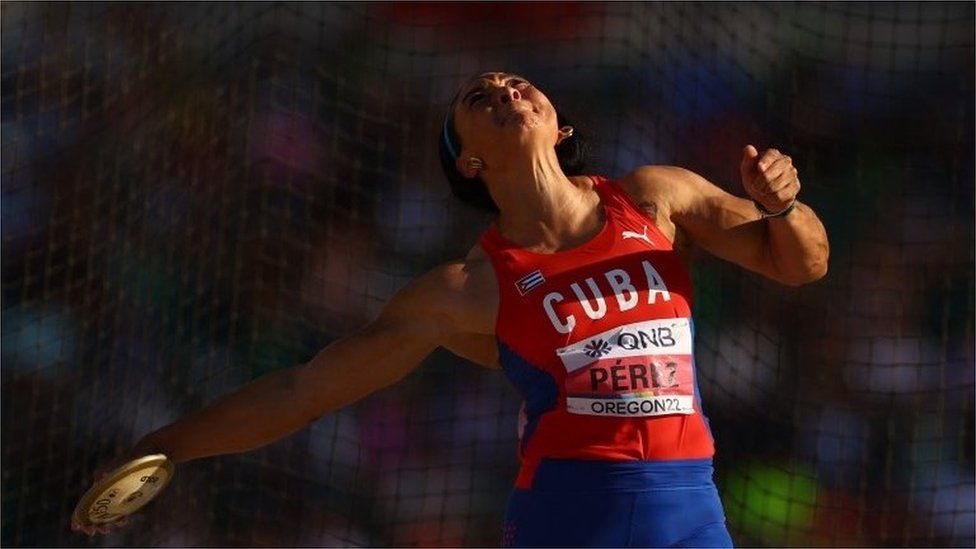 A top Cuban athlete has defected while she was on her way back from the World Championships in Eugene, USA.
Olympic bronze medal discus thrower Yaimé Pérez, 31, abandoned the Cuban delegation while on a stopover in Miami.
Her defection comes just days after that of the 19-year-old javelin thrower, Yiselena Ballar.
Ballar had also used a stopover in Miami to escape, but had done so en route to the World Championships.
Another member of the Cuban delegation, physiotherapist Carlos González, absconded on the same day as Yaimé Pérez.
Cuban officials called their defections "serious indiscipline".
Cuban athletes have a long history of defecting from the communist-run island while competing abroad, but the worsening economic crisis in Cuba has led to a raft of departures.
This year alone Cuba has lost its Olympic wrestling champion, Ismael Borrero, its silver medalist in the long jump at the Tokyo Olympics, Juan Miguel Echevarría, and gold-medal-winning canoeist Fernando Jorge.
Cuba has accused them of acting out of greed. "I feel sorry for them, because they change their jersey for any monetary reason," Cuban Athletics Federation President Alberto Juantorena said last month.
The departure of top athletes has had a marked effect on Cuba's position in the medal tables.
At the World Championship in Eugene, it registered its worst performance ever, leaving without a single medal.
Yaimé Pérez, who won a won a bronze medal at last year's Olympic Games in Tokyo, had been tipped as a medal contender. She had travelled to Eugene to defend her title as World Champion but ended coming only seventh.
Yiselena Ballar was also a bronze medalist, having placed third at the U20 World Championships in Kenya in 2019. She did not compete in Eugene following her defection.